Chris Brown and Karrueche Tran are nowhere near to a reconciliation.
The ex-couple somehow ended up at the same club, Playhouse nighclub, on Thursday night early Friday morning. Brown got a V.I.P. tables next to where Karrueche and her friends were and she got upset and left the club.
SEE ALSO: Chris Brown Acting Up Over His Karrueche Tran Heartbreak
TMZ reported that Chris Brown followed her outside the club and jumped inside her SUV, but she asked him to exit her vehicle and he complied.
Things took a turn for the worst when Chris Brown showed up at Karrueche Tran's house at 3:30 AM in the morning banging on her door and yelling.
The video above show Chris Brown getting into Karrueche Tran SUV with some friends.
It obviously worked and he got her attention and she agreed to meet at a mutual location in public. That didn't end well either because they both ended up at Norm's Diner and that ended with a shouting match.
Karrueche eventually walked out the restaurant crying and head home and Chris also drove away with his friends.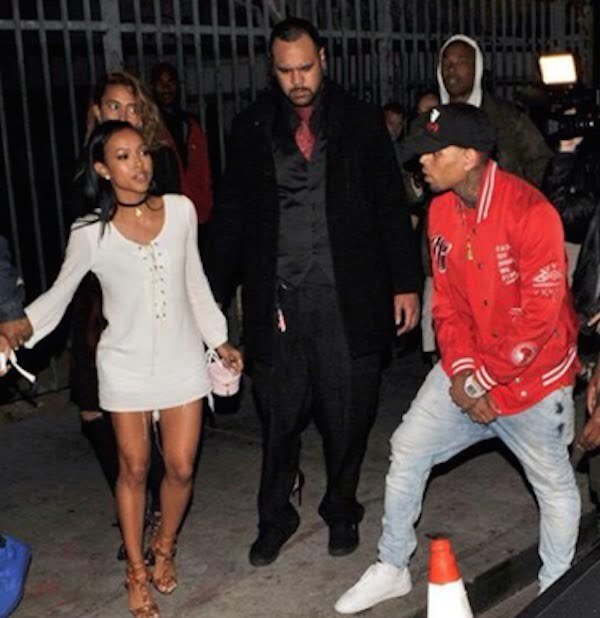 Sources say cops turned up at Karrueche Tran's house early Friday morning after the neighbors called 911 after hearing the commotion.
A patrol car was seen parked outside her home.
Karrueche Tran and Chris Brown have so far been radio silent on the saga but sources told us that their blow up at the restaurant was huge and other guests there got upset and left.
Clearly, this will drive an even bigger wedge through their already volatile relationship.
There are also reports that Chris Brown tried to put his hands on Karrueche Tran but so far that is just rumors and nothing confirmed.
Karrueche Tran dumped Chris Brown in March of this year after news broke online that he has a daughter name Royalty.