Nicki Minaj recently dumped her new boo Meek Mill and now she is also considering cutting him from her PinkPrint Tour this summer.
The "Only" rapper and the Maybach Music Group emcee have been the hottest new couple in hip-hop since the start of the year. They have almost been inseparable since going public with their relationship in January.
SEE ALSO: Nicki Minaj Returned Meek Mill Ring, Couple Split After Fight
Nicki Minaj also added Meek Mill to the North American leg of her hugely successful PinkPrint tour. But now that they have split, sources told us that she is toying with the idea of dropping him.
"It is something that she is strongly considering because Nicki don't want no drama on her tour, she just want to focus on doing this for her loyal fans," sources told Urban Islandz.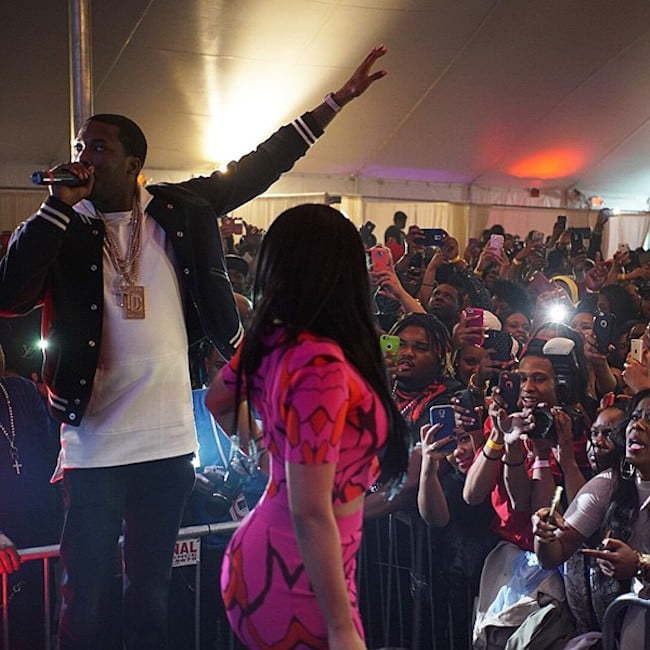 Our sources, who is close to the Trinidadian rapper, declined to shed some light on their breakup but told us that it is very real.
"There was definitely a breakup but I can't speak on the details, maybe eventually that will come out or maybe they will get back together but at this moment I can't speak on that," our source added.
Nicki Minaj and Meek Mill split last month after a big blow out that involves cheating allegation.
They have both been trading subliminal jabs at each other on Twitter and Instagram.
On Thursday, Nicki Minaj promoted Meek Mill's new song on her Instagram page.
"Thank God ya blew it!!! Thank God I dodged the bullet!" Nicki Minaj wrote in one Instagram caption.
Rae Sremmurd, Dej Loaf, and Tinashe are also on the roster for the North American Leg of Nicki Minaj PinkPrint tour. The tour kicks off June.
Nicki Minaj has also been busy shooting her scenes in Barbershop 3. She plays a saucy new hairdresser in the most popular barbershop in town.