Karrueche Tran is a 100% single and ready to mingle with Tyson Beckford.
Chris Brown on-again off-again girlfriend is finally speaking out on those reunion rumors and about her heartbreak.
After a few flirts, Big Boy finally asked Karrueche Tran what's going on between herself and Chris Brown.
"I'm 100% single… hello!," Karrueche told the radio host.
SEE ALSO: Chris Brown And Tyson Beckford Beefing Over Karrueche Tran
Karrueche says there are a few celebrities that are trying to date her but at the moment she is fully focused on herself.
"There are a few dudes that are trying to make their pass and whatever but I'm really just focusing on me, I can't get into a relationship right now, I just want to be focused, Karrueche said.
The aspiring actress also said that it is hard to avoid crossing path with Chris Brown but she take extra precaution to prevent any awkwardness.
"It's hard because like… but I make so that we don't have to cross path where it's not awkward," she said.
SEE ALSO: Karrueche Tran Host All-White Pre-Birthday Party With Christina Milian
Karrueche also confirmed that she found out about Chris Brown baby via TMZ just like the rest of the world did.
"Yes when it hit TMZ I was like oh oh! ok!" Tran said. "I called him and cursed him out."
Big Boy also questioned Karrueche Tran about a rumor that Chris Brown had her car repossessed and also her comparison to Rihanna.
"I have never had any car repossessed and any car that I've driven is in my name, but he did bought me a car a couple years ago and that was in my name okay and I sold it and my car now is in my name I pay for it every month," she insist.
She said the only comparison between herself and Rihanna is that they have dated the same guy.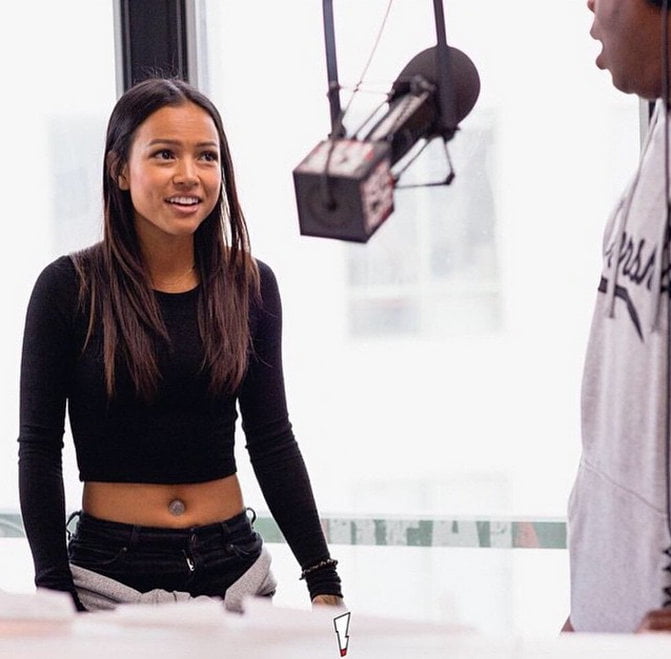 Karrueche Tran also revealed her biggest insecurity which is her belly button and it turns out that she can put a quarter inside it.