Nicki Minaj and Meek Mill could be walking down the isle as early as this year. Or worst case scenario there could not be any wedding at all.
Hip hop's newest couple got engaged earlier this month although neither has confirmed a wedding. But Nicki Minaj sent the internet into a firestorm when she posted a photo of her giant Diamond ring on Instagram.
SEE ALSO: Nicki Minaj Ex Safaree Denies Slandering Her On Twitter And Leaking Photos
Two different sources told Urban Islandz that the couple is not engaged and that their is no wedding in the making.
"Meek Mill gave Nicki the ring to show her how much he love her," one source told us. "That ring has a high price tag and she really loves it but it's not an engagement ring."
"No they are not engaged so there is no wedding and as of this moment Nicki is fully focused on her career and her upcoming North America PinkPrint tour," another source close to the Trinidadian rapper told us.
The details are still conflicting with another source telling us that Nicki Minaj is already talking about a fairytale princess like wedding.
"Nicki will be going over the top with her wedding because this is something that she has always dream about, a fairytale wedding and living happily ever after," the source revealed.
Nicki Minaj and Meek Mill relationship has progressed pretty fast after they only started dating a few weeks before going public. There are also rumors that the "Only" rapper cheated on her ex-boyfriend Safaree Samuels with Meek.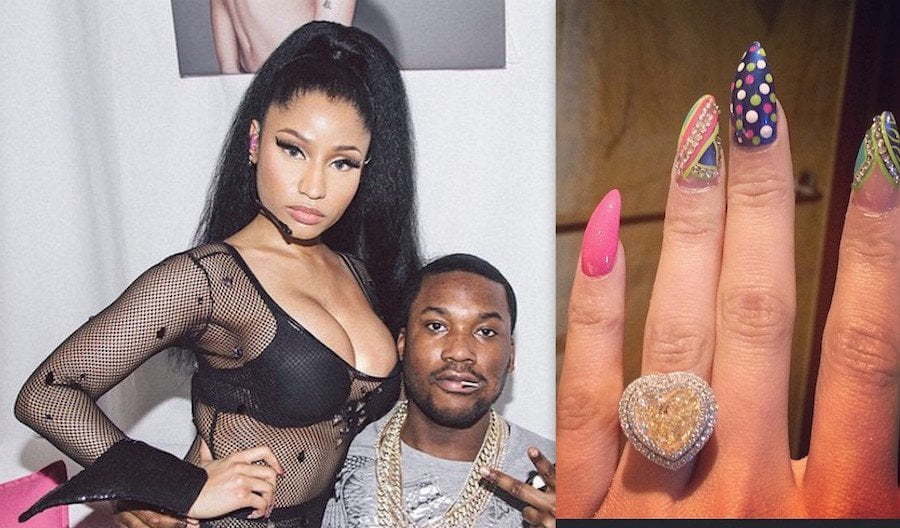 According to E! News their wedding could progress really fast just like their relationship.
"The wedding will likely happen sooner rather then later, it's just how their relationship has been going," sources said. "Nicki has been waiting for this special day for some time and Meek wants to make it perfect and a fairy tale come true for her. This is such an exciting time in her life."
The approximate value of Nicki Minaj ring is $500,000.
The big question is will there be a Nicki Minaj and Meek Mill wedding anytime soon?
Meek Mill will be joining Nicki Minaj on her PinkPrint tour this summer across North America. The pair has already made several appearances on stage together.
Meek Mill is currently putting the finishing touches on his new album Dreams Worth More Than Money, due this summer. After the album drops, he will be going on a world tour to promote the project.