Nicki Minaj is loosing money and she thinks that Christina Milian is to be blamed.
The two females were beefing over who started the whole "fleek" trend. Nicki Minaj thinks she started it and Christina Milian is trying to cash in by selling T-Shirts with the words "Pretty on Fleek."
SEE ALSO: Meek Mill Want To Marry Nicki Minaj And Give Her Some Babies
The catch phrase first popped up in Nicki Minaj's song "Feeling Myself" where she rapped about being pretty on fleek.
The Young Money rapper blast Milian on Instagram saying she wants a cut off the profits.
"Fleek by Onika ???? – I saw Christina sellin tshirts that say Pretty On Fleek. I was waitin on my percentage at the door! *tilts head*" Nicki wrote on Instagram.
Christina Milian was selling the T-Sh**s on her new website WeArePopCulture.com. But last check they were taken down.
Bts #WeAintWorried #WeArePopCulture.com coming soon. #braidOnfleek pic.twitter.com/rLiCSwg4vR

— Christina Milian (@ChristinaMilian) March 3, 2015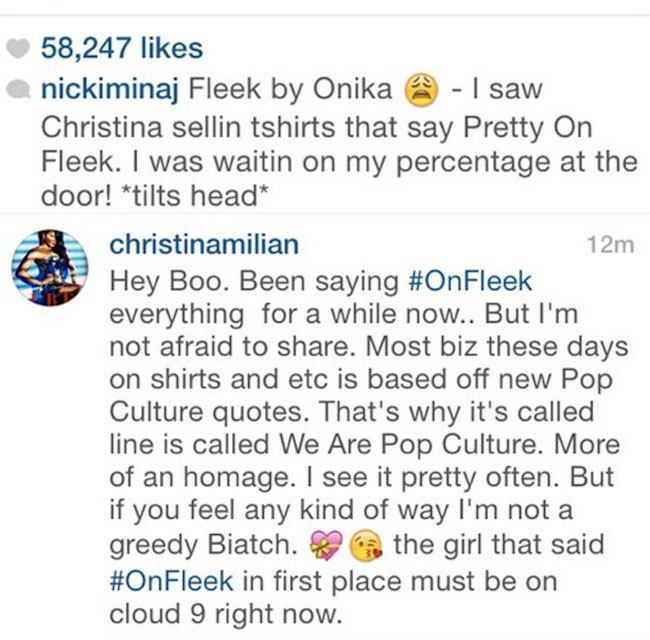 Milian also responded to Nicki Minaj on Twitter and on Instagram. The two females have since put their differences aside. Milian is Nicki Minaj's boss, Lil Wayne, girlfriend.
This is what Christina Milian wrote in response to Nicki Minaj.
"Hey boo. Been saying #OnFleek everything for a while now.. But I'm not afraid to share. Most biz these days on shirts and etc is based off new Pop Culture quotes. That's why it's called line is called We Are Pop Culture. More of an homage. I see it pretty often. But if you feel any kind of way I'm not a greedy Biatch. the girl that said #OnFleek in first place must be on cloud 9 now
All good babe> RT @ChristinaMilian: I don't know how to even read these tweets these days. So confused.. lol ? still love Ya tho @NICKIMINAJ

— NICKI MINAJ (@NICKIMINAJ) March 1, 2015