Drake and Tyga are beefing again and this time things could get ugly.
Drake has a new mixtape out titled If You're Reading This It's Too Late and on one of the tracks "6 PM In New York", Drizzy took a jab at his own labelmate.
SEE ALSO: Drake Using Kylie Jenner To Troll Tyga On Instagram
"Oh you tried, so childish / calling my name on a world stage / You need to act your age / and not your girl's age," Drake raps, while dissing Tyga, 25, for dating Kylie Jenner, who is 17.
Drake didn't mention Tyga by name but he also called him out over the interview the Compton rapper did with Vibe Magazine.
"I heard the lil' lil' homie talking reckless in VIBE/ That's quite a platform you chose / you should have kept it inside," Drake raps.
Back in October last year Tyga covered Vibe Magazine and in his spread he opened up about his beef with Drake.
"I don't like Drake as a person," Tyga told Vibe. "He's just fake to me. I like his music; you know what I'm saying? I think his music is good, but we're all different people. We were forced together and it was kinda like we were forcing relationships together. It is what it is."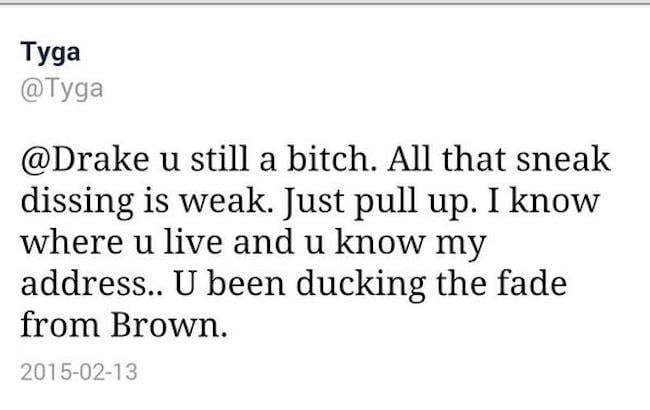 Now Tyga has fired back at Drake on Twitter and he didn't do it subliminally.
"@Drake u still a b***h. All that sneak dissing is weak. Just pull up. I knwo where you live and u know my address.. U been ducking the fade from Brown," Tyga wrote on Twitter before deleting it.
The song "6PM In New York" was produced by Boi-1da and Mike Zombie.
Listen below.