Tyga is opening up about his feud with label mates Nicki Minaj and Drake and he has some harsh words for the later.
Tyga calls Drake a fake and says he and Nicki Minaj does not get along period. Tyga covers Vibe magazine upcoming issue where he opened up about his issues with YMCMB.
SEE ALSO: Tyga Leaving Cash Money Records, Blast Label On Twitter
"I don't really get along with Drake," Tyga said. "I don't really get along with Nicki."
"I don't like Drake as a person," Tyga added. "He's just fake to me. I like his music; you know what I'm saying? I think his music is good, but we're all different people. We were forced together and it was kinda like we were forcing relationships together. It is what it is."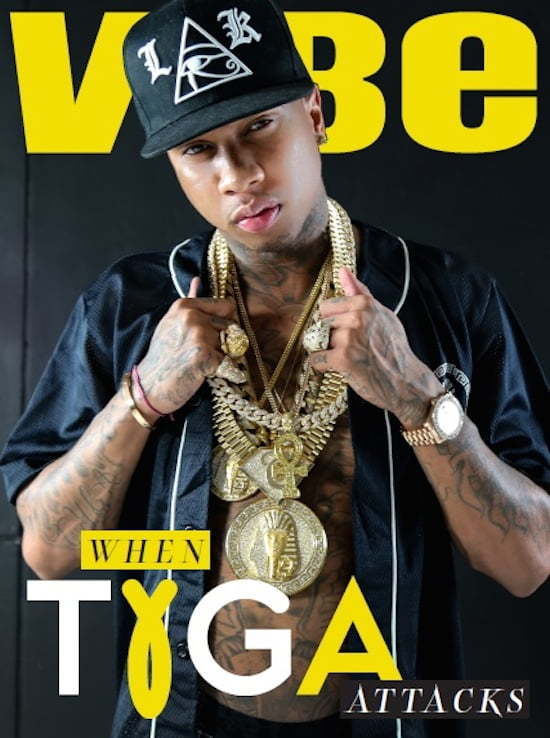 The "Hookah" rapper has been complaining bitterly on Twitter that his label Cash Money has been holding him hostage and refusing to release his album The Gold Album: 18th Dynasty.
"I think being signed to Young Money, everybody felt like they had to force a relationship 'cause Wayne put us together," Tyga continues. "At the end of the day the reason why I signed to Young Money is because of Wayne. Not because of Drake, not because of Nicki. It was because of Wayne and my relationship with him. I try to be cool with everybody, but sometimes, everybody just has different personalities, motives, and different characters. When you realize that, you realize that's not a place where you want to continue to grow."
Tyga says he want to leave the label and become an Indie artist. "I'm tryna go independent."
In the full interview Tyga also opened up about his split with Blac Chyna, his friendship with Chris Brown, and dating Kylie Jenner.