Tyga and Kylie Jenner are clearly dating and Drake and the Compton rapper are clearly beefing.
But Drake refused to engaged Tyga in a lyrical feud so what he is doing is trying to get under his fellow Young Money labelmate skin by using Kyle Jenner and Blac Chyna.
Last week Drake went on Instagram and like almost every photo he could find of Tyga's baby mother Blac Chyna. Then last weekend he uploaded a photo of himself with Kylie Jenner, clearly taking a shot at the "Loyal" rapper.
"Kylie Jenner in the cut," Drake captioned the black-and-white photo.
On Monday Blac Chyna claimed that Tyga hacked her Twitter account and sent off a bunch of tweets defaming her after she allegedly posted a photo on Instagram and tagging Drake.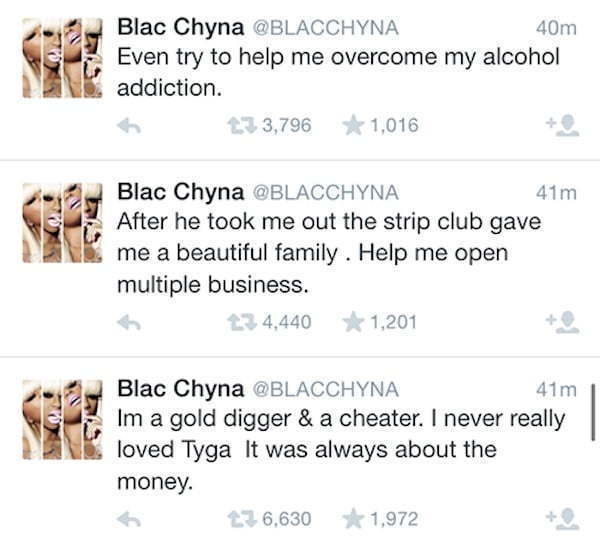 But she says that she now has back control of her Twitter page and has deleted the inflammatory tweets.
Got my twitter back ?? Yes I had a petty moment last night.. I'm human and I been ignoring the elephant in the room for months.

— Blac Chyna (@BLACCHYNA) November 2, 2014
I would never post things like that. I'm raising a son and King was created out of love.

— Blac Chyna (@BLACCHYNA) November 2, 2014
Kylie Jenner has been quiet so far.