Chris Brown is taking some heat on Twitter for tweeting that "Ebola is a form of population control."
Now his ex-girlfriend Rihanna is laughing her pants off. Sources close to the Bajan pop beauty told Urban Islandz that Rihanna rolled over laughing after seeing some of the response Breezy got on Twitter.
SEE ALSO: Chris Brown Tweeting About Ebola Conspiracy Theory
SEE ALSO: Rihanna New Single This Month, Plus Album R8 Release Date
"RiRi was laughing so hard that we were laughing at her, she basically thinks that he is an idiot," the source said.
"Of course Rihanna takes the Ebola epidemic very serious and is looking for ways she can help," the source added.
"That was an ignorant statement from someone who has so much followers on Twitter," the source continues.
Chris Brown sent out the tweet last night and has been getting some backlash ever since.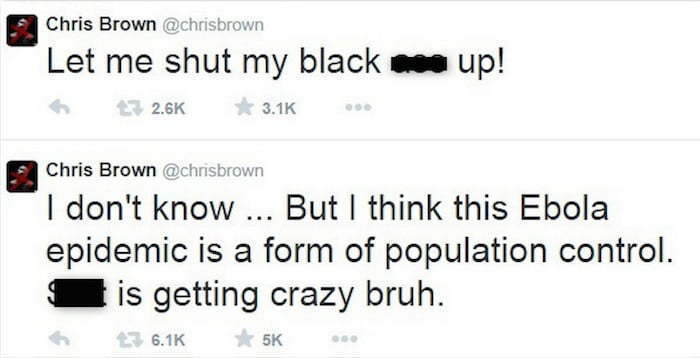 "I don't know … But I think this Ebola epidemic is a form of population control. Sh– is getting crazy bruh," Chris Brown wrote on Twitter.
Apart from laughing at Chris Brown ignorance, Rihanna has been busy in the studio working on her 8th studio album, due in November 25.
The Pour It Up" singer is also planning to grace her fans with some new music this month.