Chris Brown says Ebola is "form of population control" by those in higher power.
The "New Flames" singer is currently being ridiculed on Twitter and praised by some for tweeting about the Ebola conspiracy theory.
SEE ALSO: Drake Thinks He Is Better For Rihanna Than Chris Brown
SEE ALSO: Chris Brown & Karrueche Still Together Despite Kendall Jenner Rumors
"I don't know … But I think this Ebola epidemic is a form of population control. Sh– is getting crazy bruh," Chris Brown wrote on Twitter.
The tweet received over 12,000 retweets and 9,000 favourites since he sent out the tweet last night.
After he started getting some backlash he then tweeted, "Let me shut my black a** up!"
"The stupid gene is strong in Chris Brown," one famous person wrote on Twitter.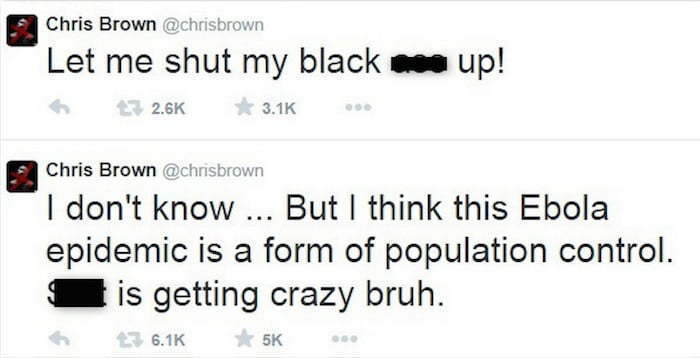 But Chris Brown is not the only one talking about the topic. The Ebola conspiracy theory surfaced since the first person to die from the deadly virus in the United States is a black man.
Chris Brown just released his new album X that has been doing fairly well. The album debut at No. 2 on Billboard 200 chart with 145,000 copies sold in its first week.
Breezy sure knows how to keep people talking about him.