Despite the inclement weather and several competing offerings last Saturday, that did very little to thwart the fans of popular entertainer Demarco from coming out in their droves to celebrate with the Dancehaller who was hosting his inaugural birthday celebration.
SEE ALSO: Demarco Warns Fans About Fake Facebook Page, Cancels European Show
Staged at the Lime Lite Entertainment Complex in Half-Way-Tree, the Magnum sponsored event aptly titled 'GOOD BOOK' was off to a good start around midnight as patrons steadily streamed into the well decorated venue ready for the nights' festivities.
In front an almost packed house Demarco made his grand entrance at approximately 3am decked in a checkered grey, black and white ensemble courtesy of high profile designer Carlton Brown with complimenting embellishments from Rolex and Versace.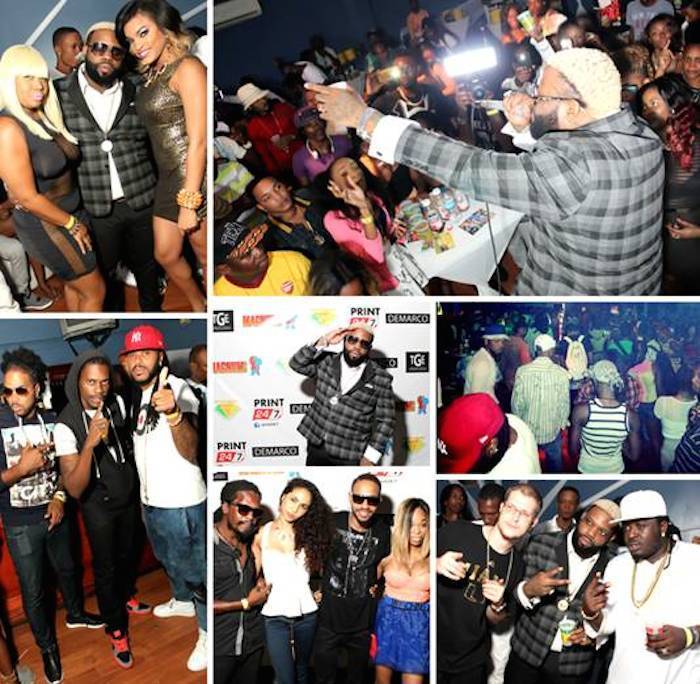 As the drinks flowed and the photo opportunities diminished the party was in full swing by 3:45am with popular disc jocks ZJ Liquid, Hotta Maestro, Richie Feelings, Barber Dee and CD Fantasy serving up a musical feast keeping patrons thoroughly entertained until the wee hours of Sunday morning. Several noted Corporate and Entertainment personalities also made the trek to show their support for the singer who has been having one of the best years of his career.
The much publicized 'Puppy Tail' female dance contest was also another highlight of the night as contenders showed off their best moves to the delight of the attentive judging audience. In the end three young ladies walk away with a combined cash price of over J$100,000.
Speaking with members of the media amid the event Demarco said, "I want to thank everyone who came out to my Birthday celebration, this event is just one way of me giving back to the fans for the continued support and commitment they have shown me throughout the years".
The fun-filled night was capped by a spirited medley performance featuring Jah Vinci, Don Husky, Quick Cook and Demarco.
Demarco is currently riding high with a surfeit of hits such as: Good Book, Ride, Lazy Body, Bad Gyal Anthem, Puppy Tail, Stay In My Lane, Apartment and Put The Duppy Pon Yuh'