Despite Rihanna not wanting anything to do with Chris Brown right now, her dad does not feel the same.
Rihanna and her abusive ex-boyfriend came face to face last month at a celebrity charity basketball game in New York.
SEE ALSO: Chris Brown Hangs Out With Rihanna's Dad Ronald Fenty [PHOTO]
But the "Diamonds" hitmaker basically ignored every attempted by Breezy to get her attention.
Coincidentally, Rihanna's dad, Ronald Fenty, was at the game and noticed the tension and went and spoke with Chris Brown and even snapped a few selfies.
Sources close to the Bajan pop beauty told Urban Islandz that Ronald had a little heart-to-heart with Breezy and told him to be patient with his daughter because she is currently going through some emotions.
"He [Ronald] told him [Chris Brown] that she is not in the best shape emotionally right now and that he should to be patient with her and give her some time to come around," the source told us.
"Ronald know Chris is trying hard and he also know they both love each other and want the best for them both, he is a very down to earth and understanding person, so he gave him that talk from an OG perspective," the source added.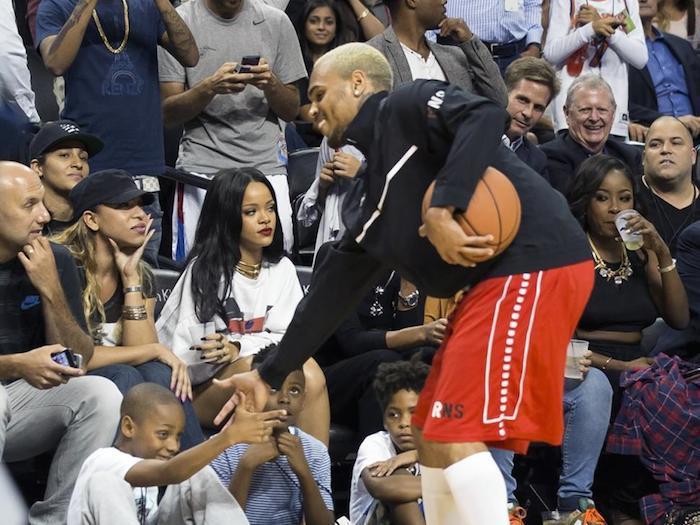 The source also told us that Rihanna wasn't really happy about her dad speaking with Chris Brown.
Rihanna has been rumored to be back together with her old flame Drake, but our source insist that rumors are false and Rihanna and Drake are just friends.
RiRi just completed his Monster tour with Eminem and is in Europe for vacation.
The question is whether or not she will get back together with Chris Brown and where would Brown's girlfriend Karrueche Tran fits in?