Pharrell Williams has had one of the best years of his career and thanks to his viral single "Happy."
Pharrell one four Grammy Awards this year and also performed at almost every award show including the Academy Awards.
SEE ALSO: Pharrell "Happy" Hit No. 1 On Billboard Hot 100
Speaking with Oprah on her "Oprah Prime" show aired on Sunday on OWN, Pharrell broke down in tears when Oprah played clips from people all over the world singing and dancing to the viral single.
"Zero airplay nothing and the next thing you know we put out the video on November 21st and all of a sudden boom," Pharrell told Oprah. "I mean when I said boom I mean boooooom… and we were like what's happening because first of all people are putting up their own video and it was like no longer my song."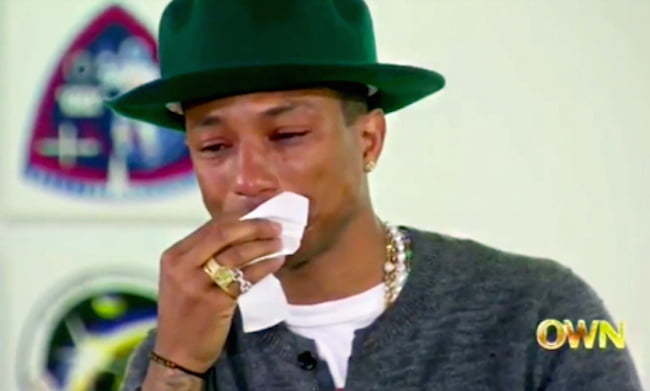 Oprah also tweeted out saying that Pharrell tears was one of the most humbling moments of her career.
. @Pharrell this was one of the most sincere humbling moments I've ever experienced during an interview. HAPPY tears.? #OprahPrime

— Oprah Winfrey (@Oprah) April 14, 2014
Wow…@Oprah, I am speechless. All of your kind words are overwhelming. ?

— Pharrell Williams (@Pharrell) April 14, 2014
.@Oprah You can't imagine what this means coming from you, a rare force. So radiant. ?

— Pharrell Williams (@Pharrell) April 14, 2014
Pharrell also opened up about his career and being mentored by Jay Z and Diddy.