Vybz Kartel murder trial continues for its 15th day in the Home Circuit court today.
Vybz Kartel, whose real name is Adidja Palmer, has pleaded not guilty to the murder charge when the trial started last month.
NEWS: Kartel Trial: Blood Sample DNA Not A Match To Victim
He along with Shawn "Storm" Campbell, Kahira Jones, André St John, and Shane Williams are jointly charged for the alleged murder of dancer Clive "Lizard" Williams.
The trial was initially scheduled to run from November 18 through to December 6. However, witness are still taking the stand which could see the trial goes into it's fourth week.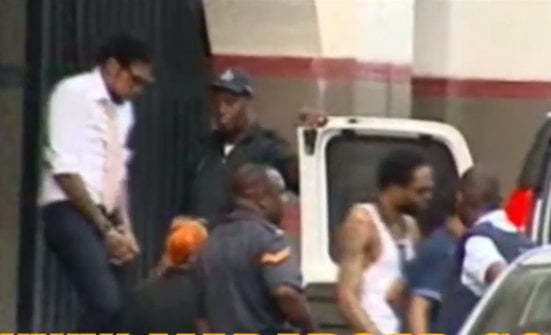 Yesterday the judge sent home the jury and cleared the courtroom of all press and observers for the testimony of former Jamaica Constabulary Force's Cybercrime Unit head, Patrick Linton.
Hilton told the court that his testimony would have national security implications. The defense attorneys agreed amd the judge asked everyone including the media to leave the courtroom.
As a result we do not have any details about his testimony, but we suspect it is related to Vybz Kartel's cellphones.
It's also possible today that an employee of Digicel will testified in court.
According to authorities, Lizard was beaten to death by Vybz Kartel and his co-accused at his house in Havendale, St. Andrew on August 16, 2011.
His body was not found.
If convicted the accused men could spend the rest of their life behind bars.
Update:
Former Cybercrime Unit head, Patrick Linton, continues to give testimony in the absence of the jury, the media, and everyone else, the courtroom is clear.
Update:
Large crowd of Vybz Kartel supporters outside the court chanting free worl'boss.
Vybz Kartel common-law wife was spotted earlier outside the court.
Update:
The judge asked the jury to return to court on Monday. The trial should wrap up by at least mid-week next week.
Update:
Court adjourned until Monday December 9.
Check this page regularly for live updates throughout the day