Update: Sources confirmed with Urban Islandz that the iconic bronze statue of reggae legend Bob Marley was cleaned yesterday and fully restored.
Original:
This piece of news will make a lot of us angry and Bob Marley is turning in his grave right now.
The iconic life-size Bob Marley bronze statue in Celebrity Park, Kingston was defaced earlier this week.
Someone sprayed red paint on the legs, hands and guitar of the statue.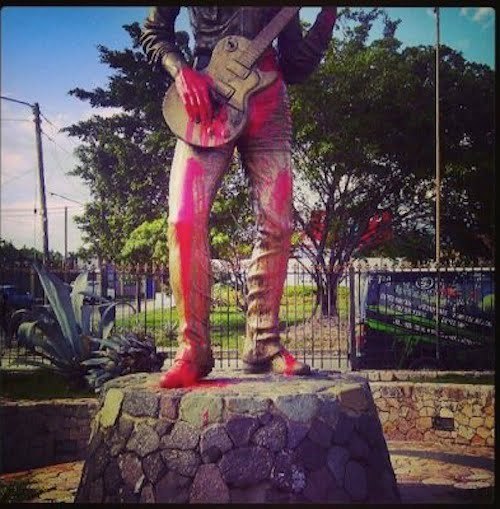 According to reports, the defacing was done by angry fans who attended the Jamaica and Costa Rica football match on Tuesday at the National Stadium. The match ended 1-1 and also ended Jamaica's chance of going to the World Cup in Brazil next year.
"I have no comment at this point because I wasn't aware of this. I know it's a bronze statue and I don't know how it is going be cleaned," Managing Director at the Bob Marley Museum, Stephanie Marley said.
Sources say arrangements are being made to restore the statue of the reggae legend as soon as possible.