Tim Cook, Apple Chief Executive Officer, revealed the eagerly awaited iPhone 5, the company's flagship product.
At an event held at Yerba Buena Center for the Performing Arts in San Francisco, California, Apple also revealed the new iPod and a redesign iTunes.
The new iPhone 5 will boast Apple's new operating system IOS 6 and a thinner lighter frame with larger screen. No doubt Apple is looking to raise the smartphone bar once again with the iPhone 5.
"Apple has never been stronger," said Tim Cook.
See a list of new features on the iPhone 5.
-Be on A 4G LTE Network
-Have a 2x Faster CPU
-Be 22% Smaller
-Have an 8-10 Hour battery life
-Have a 25% smaller 8 megapixel camera
-Have 44% more color saturation than 4s
-Offer FaceTime over the cellular service
-Have a new connector that is 80% smaller
-Has integrated Tom Tom into it's GPS capabilities
-Offer Panorama – a new feature that allows you to take massive widescreen pictures
-Be priced at $199 for 16GB up to $399 for 64GB
-Have a release date of September 21st with a pre-order beginning on Friday September 15th
-Siri now knows sports, can suggest movies based on Rotten Tomatoes, and update your Facebook status
-Be available in both black and white
-Offer 3 Mics; One mic on the front, one on the bottom and one on the back.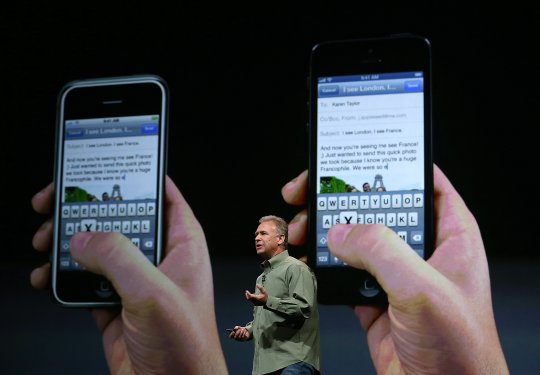 gallery