Usain Bolt continues his Olympic gold medal celebration in London this week with a party spree.
The sprint king was spotted along with fellow Jamaican sprinters Yohan Blake, Asafa Powell and Warren Weir at the Puma Yard party in east London.
The Jamaican athletes put on a show anywhere they go, whether on the tracks or in the club. On the track he is the world greatest sprinter of all time, but this time Bolt put on his DJ cap and take a spin out of the DJ boot.
After winning gold in the 100 and 200 meter sprint, Bolt anchored Jamaica to win gold in the 4X100 meter relay in a world record time of 36.84 seconds.
Bolt and Blake partied until 6 a.m. UK time.
"I'm feeling great," Usain Bolt said. "I am happy and I did what I did and I came here to be legend and I am now so I am very happy with myself. It is a wonderful feat. We always come out here and give it our best. At the last Olympics we did great and at this Olympics we did great, so for me it was an honour to share it with these guys and to do wonderful things and extraordinary things – so for me, I am very happy."
Peep some footage from the Puma Yard party below.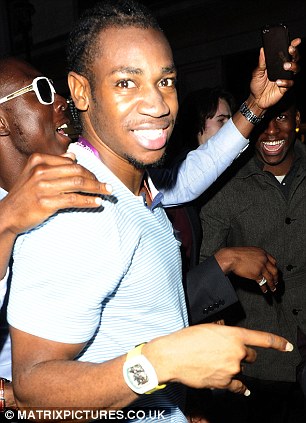 gallery