Dancehall star Busy Signal is currently locked away in a Minnesota jail cell wondering what the outcome of his pending trial will be.
However, as new information reaches Urban Islandz, it seems the "Reggae Music Again" deejay has some rough times ahead. To be frank, his legal troubles are nowhere near over.
A close source to the 2002 cocaine case against Busy Signal exclusively told Urban Islandz that not only was he set up by an informant, but he also should have fight the extradition since the case is still open.
"The reason Busy Signal even caught that case in 2002, was because a Jamaican named Rayon Walker, that flew into the USA and was suppose to drop off a kilo to Busy Signal, got caught at the airport and decided to cooperate and follow through with the delivery to Busy Signal," the source said.
"Busy was crazy not to fight the extradition, because if he jumped bail in 2002, the cocaine case is still open and still has to be resolved," the source added.
The affidavit documents for the 2002 narcotics case against Busy Signal obtained by Urban Islandz also backed up our sources claims.
The document states that Glendale Gordon, aka Highpop, and Rayon Anthony Walker knowingly and intentionally conspire to distribute and to posse with intent to distribute approximately 1.2 kilograms of cocaine.
Signal was arrested last month at the Norman Manley International airport in Kingston just moments after stepping off a flight from London. He was traveling with false documents at the time of his arrest.
An extradition warrant was issued to the Jamaican government to have the deejay sent to the United States, however, Busy Signal waived his rights to fight the extradition and was sent to the US, where he will stand trial for absconding bail.
Busy Signal's lawyer in Jamaica, KD Knight, states that the deejay can only be tried on the charge of absconding bail due to the extradition treaty between the United States and Jamaica.
At his hearing earlier this week in a Minnesota court, Busy Signal pleaded not guilty to the charge of absconding bail.
His attorney, Bill Mausy, told the court that the United States does not have jurisdiction to prosecute his client on the drug charge from 2002.
According to Mausy, any future prosecution on that charge would have to be worked out between the United States and Jamaican government.
See copies of the 2002 Affidavit below.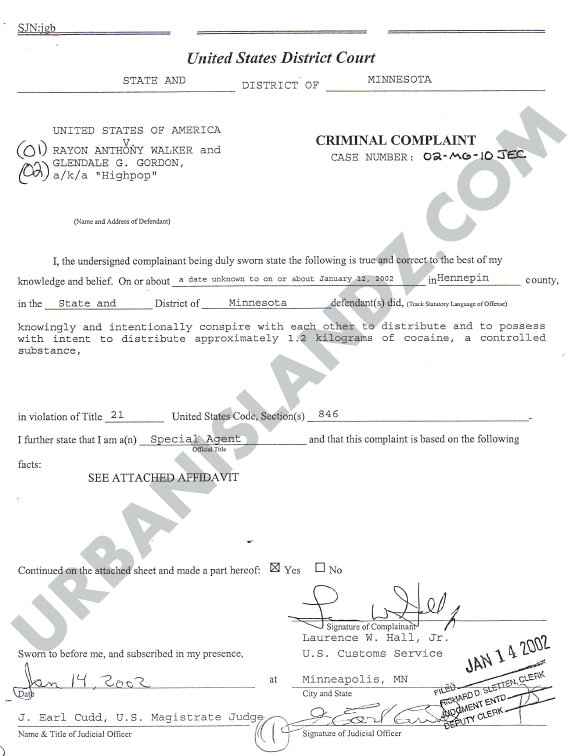 gallery