. width: 200 height: 308″>.
There were several big upsets at the 53rd Grammy Awards on Sunday night, but perhaps the nights biggest winner was an almost unknown Jazz artist from Portland, Oregan name Esperanza Spalding.
Esperanza Spalding took home the Grammy for best new artist, to the shocker of Justin Bieber and Drake fans, but more so Bieber, who was the hot favourite.
Spalding, who beat out Justin Bieber, Drake, Florence & The Machine, and Mumford & Sons to capture best new artist, gave a resounding speech. Not only was she grateful for the acknowledgment of being nominated, but also even more grateful for her win.
"I certainly did not expect to even be considered for that type of nomination, me being a little old jazz musician and everything," she told EW in December after the nominees were announced. "Everybody and their mother-law started texting me and saying, 'Oh my God!'"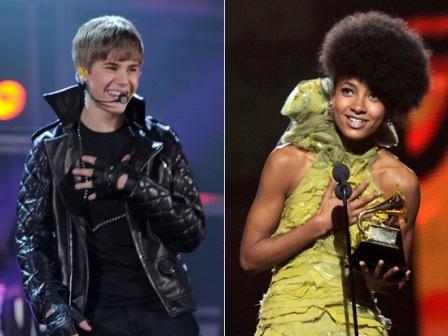 Just after the win, Justin Bieber fans went on a rampage on social media sites Twitter and Facebook, to show their frustration with the Grammy Academy.
But Spalding continues to show her class as an artist. She was both pleased and bemused by the attention. "I mean, for jazz musicians, usually the recognition comes from your peers," she said. "If someone that you really respect artistically likes your record, that's all the award you need. But it is meaningful, and I don't want to act like it's nothing, that someone outside of my little jazz circle knows about me and wanted to acknowledge me."
Esperanza Spalding has played for President Obama by request at his Nobel Prize Ceremony.
Although she didn't expect to win at the 2011 Grammy Awards against the likes of Justin Bieber and Drake who are both platinum selling artists, Esperanza Spalding clearly earned the Academy's respect for her talent.
See Esperanza Spalding perform for President Obama below.
Your thoughts below