At the beginning of every week Urban Islandz brings to you a featured young and upcoming talent that will blow your mind.
This week in particular we bring you the first female that make the cut, an emcee hails from Bronx NY with a Reggae Fusion sound that never been heard of before. The name Patwa reminds you of one thing, but with a different spelling from the Jamaican Patois we all love to embrace. Additionally, it comes with some great from a marketing benefits.
Before we dig into Patwa current happenings, lets look a little into her background and where this unique reggae fusion sound comes from.
Patwa (Formerly known as Trinity) was born in the Bronx, New York, to Jamaican parents of Irish, Indian, and African-American descent. When Patwa was five, her parents divorced, and she was raised by her mother in the northern area of the Bronx. Patwa has also lived in Lawrenceville, Georgia where she attended high school and later college at Georgia State University.
Patwa is not just another pretty face aspiring female emcee trying to break into hip hop and dancehall for the hype. Instead you will find in her music that smooth Shyne type of flow and some killer rhymes that will make Lauryn Hill want to work with her. But like most young and upcoming talent, she need that exposure in order to realise her dreams of becoming the next big thing.
Peep Patwa What Can I Say Video
Urban Islandz took time out to chat with Patwa a bit and the humble emcee response to our questions are listed below.
1. Tell us about where you grow up and where you resides now.
Patwa: I was born in the Bronx (New York). Both of my parents were born and raised in Kingston, Jamaica and migrated to the states in their 20s. Growing up in the Bronx was a gift and a curse for me. I was exposed to a lot of things at a young age such as sex and violence, a lot of my peers were skipping school, and stealing. New York City is very fast paced. I had a love for basketball, and this is what kept me occupied and out of trouble. I thought I was going to be the first girl in the NBA.
2. Are signed to a label now? Tell us more about that aspect of your career.
Patwa: No, currently I am not signed. I have a team, we go by Higher Heights which consists of me, my management, Tru Ferguson, and Danny Atoms  (another artist who works hand in hand with me).
3. What inspired you to choose music as a define career path rather than a 9 to 5?
Patwa: I've always told people that I would rather be broke and living on the street being happy rather than force myself to wake up every morning to go to a 9-5 job, no matter how much money it may bring me. It's always been really tough for me to do things that I was not passionate about. I worked during high school and college, and even tried to work in the law field for a a few years but I had to force myself out of bed in the morning, and it was overbearing. Music is my passion, it's what I am good at it, it's what comes naturally to me, it's the only thing I could see myself excited to wake up doing.
4. Which artists do you look up to, who you may get inspiration from?
Patwa: I get inspiration from not so much artist themselves, but more so everyday life. Interacting with different people of different cultures and from different walks of life intrigue me. I can be walking down the street or on the subway and see an elderly woman begging for money and that can hit me as inspiration – all of a sudden I start feeling certain ways, and this is the type of things that inspire me.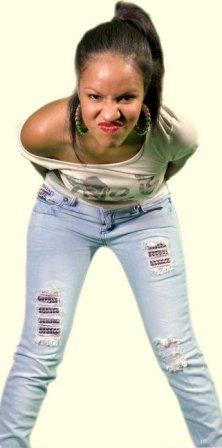 5. Most of your lyrics are hard hitting and full of Rhyme, do you write yourown lyrics?
Patwa: Yes, I write all of my lyrics. I always wonder why this question is never asked of males in Hip-Hop. I think it's pretty bad to assume that because a rapper is a female that she may or may not write her lyrics. I've always wrote my own lyrics, only I can tell you how I feel. Without my words and my own thoughts, their is no passion.
6. What motivates to choose the crossover reggae/hip hip genre rather than straight reggae or straight hip hop?
My whole life was influenced by both cultures. Both of my parents are proud Jamaicans, and I was raised in the birthplace of Hip-Hop. To really embrace myself as a person I wanted to embrace everything that makes me who I am. The Reggae and Hip-Hop genres come hand in hand, and for me it is just natural.
7. What can we expect from Patwa in the future?
Patwa: Right now, I've released my first Mixtape entitled "One Gyal Army", I also have a brand new music video entitled "I'm A Lady" which is the first single off the mixtape. I will be premiering a new music video every week for the next month to really give everyone visuals for my songs. I am also going to start working on new material and shows across the tri-state as soon as possible.
8. What was your first successful single and tell us more about that single?
Patwa: "What Can I Say" was my first video and song which was premiered in late September. The success from this song was unbelievable, i actually wrote and recorded this song 2 years ago, and had it sitting down for a while. I remember hearing the beat, and finishing the record that same night. The classic sample, and the hard knock was crazy, I put my c**ky swag on and just went in. I always loved this record, but never knew people would also really gravitate to it as much as they did. I had a lot of comparisons to Foxy Brown when I first recorded this song so I never wanted to push it, in fear that I would fall into another artists lane. However, when released I got comparisons to the rapper Shyne which was completely new to me. Overall, I'm honored to be compared to both artists but I would like for people to respect Patwa as something new.
9. Tell us about your upcoming project (album or Mixtape)?
Patwa: My mixtape, now out on datpiff.com is a combination of songs I've recorded mostly since September of this year. I also have 2 songs (including "What Can I Say" that was done 2 years ago). I wanted to rejuvenate a lot of classic reggae hits and turn them into a fusion of reggae/hip-hop. I did songs such as "Mad Lion – Tek It Easy" "Lil Vicious – Some Gyal A Freak", "Buju Banton – Champion" and "Sister Nancy – Bam Bam" to name a few. I just wanted to have fun, and give people a taste of what I can do.
10. Finally tell us why fans should buy Patwa music?
Patwa: There is definitely a void of a female rapper that can bring hard lyrics without being overly violent, or who can be sexy without being overly sexualized. I am a fan of Hip-Hop, the art of making music, being creative, selling your skills rather than your body, and when you listen to my music, i am just that – I bring you Hip-Hop music in it's raw form. At the end of the day, no matter if I sell one record, I would rather keep my reputation of being a "Hip-Hop" artist before anything else.
Peep Patwa latest video for I'm A Lady
You can check out more about Patwa on her personal pages
Facebook Fan Page
Youtube.com/PatwaMusic
patwamusic.com