. ..
Some people may not agree, Lil Kim being one of them, but Rollin Stone mag crowned Nicki Minaj the new reigning queen of hip hop.
In the new spread featuring the Young Money Princess, Nicki opens up about her success in the industry and why being famous wasn't her agenda behind making it in Hip-Hop.
"When I was little, I used to ask God to make me rich so that I could take care of my mom," Nicki said in the interview. "I always believed that if I could take care of my mother then she wouldn't have to stay with my father."
In addition to discussing her past, Nicki Minaj also discusses her sexuality. After claiming to be an openly gay woman who thought "boys were icky"; Nicki is now changing her tune stating that she loves the wood.
"I think women are sexy," Nicki continued. "But I am not going to lie and say that I date girls."
The first week album sales projections are in and it seems Kanye West might inch out Nicki Minaj for the top spot. But billboard is in for a week of hip hop domination. According to Hits Daily Double Kanye's Beautiful Dark Twisted Fantasy is on pace to go gold in the first week.
One day sales figures indicate Yeezy's fifth album should sell between 525,000 and 575,000. That would top 808's And Heartbreak, which sold 450,000 in week one, but fall short of Graduation's massive 957,000 in 2007. Nicki Minaj's debut won't move quite as well, but is still expected to sell an impressive 375,000 to 425,000 units. Pink Friday is also selling well digitally, coming in at number eight on the iTunes top ten.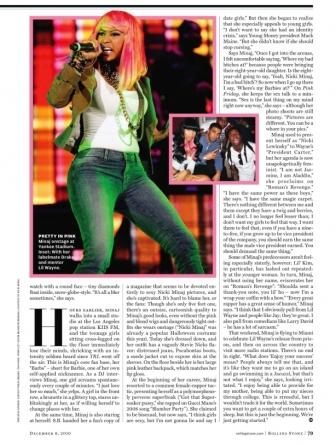 Your comments below