Digicel Rising Stars was full of talents, energy and surprises as the last weeks show. Eight semi-finalists vied for their chance to be in the top 10 of the popular Jamaican talent competition. Rising star brings a new host "Lady Renae" and overall she is receiving good ratings from viewers.
The first finalists for the show are Latoya Chambers, Toni Blair, Camaley, Jermaine Michael and Travaugne Ming.
It was sixteen year old Dalton Harris who won the judges over, including the Simon like Anthony Miller. Harris did a rendition of Romain Virgo's The Rain Is Falling. Harris did a lot of wining throughout the performance, which prompted judge Nadine Sutherland to exclaim that he had bowled her over, while Miller said that Harris had changed the night for the better with his performance.
Other Highlights of the show
Nekorah Philips did a powerful performance of Whitney Houston's Where Do Broken Hearts Go. According to judge Nadine Sutherland, it was a "full bodied" performance that showcased Philips' range, while Clyde McKenzie gushed, "Sound wicked, yuh ting set."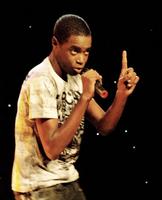 Dwayne Dyer, who has tried out for the competition repeatedly, sang Air Supply's All Out of Love,which the judges thought was lacklustre and Anthony Miller commented that it was "borderline, irritating." Carla Brandon went for an old-time, upbeat Ain't Nothing Going On But the Rent, adding a few lines about her 'fluffiness' which the crowd enjoyed. McKenzie said, "It didn't bomb but it didn't live up to my expectations," while Miller said her personality didn't shine through in the song
The producer's pick, Nicholas Gordon, who has been trying out for five years, followed with a love medley that didn't sit well with the judges, who didn't think the song choice was a good one.
Beres Brown closed the show with a bang, singing Glory of Love. Brown brought laughter and got 'forwards' as he danced, went on his knees and carried on with his antics. Sutherland said, "You're what Jamaican people call 'sample', you have character."