Nelly might be a good sport, or he might be actively trying to seal the deal with R&B singer Ashanti as he hinted that he was trying to get her pregnant.
Ashanti and Nelly's love story after 20 years remains an inspiration to many people who find it remarkable that they can reconnect and fall in love all over again. The pair seem head over heels in love on the second try, and many of the #Nashanti fans do not want to see it end.
Not only are the couple back together, but they also appears to be more in love than ever. Over the weekend we saw Ashanti gifted the Country Grammar rapper his childhood dream car, a 62 Chevy Impala, as his 49th birthday gift. As if that wasn't a grand enough gesture, she also threw him a surprised birthday party with family and friends.
Over the weekend, a fan hopped in Nelly's comments urging the "My Place" rapper to ensure that Ashanti stays in his life.
"Ger her pregnant @nelly [laughing emoji] TONIGHT," the fan wrote. Nelly also reacted to the comment, writing, "I'm on it."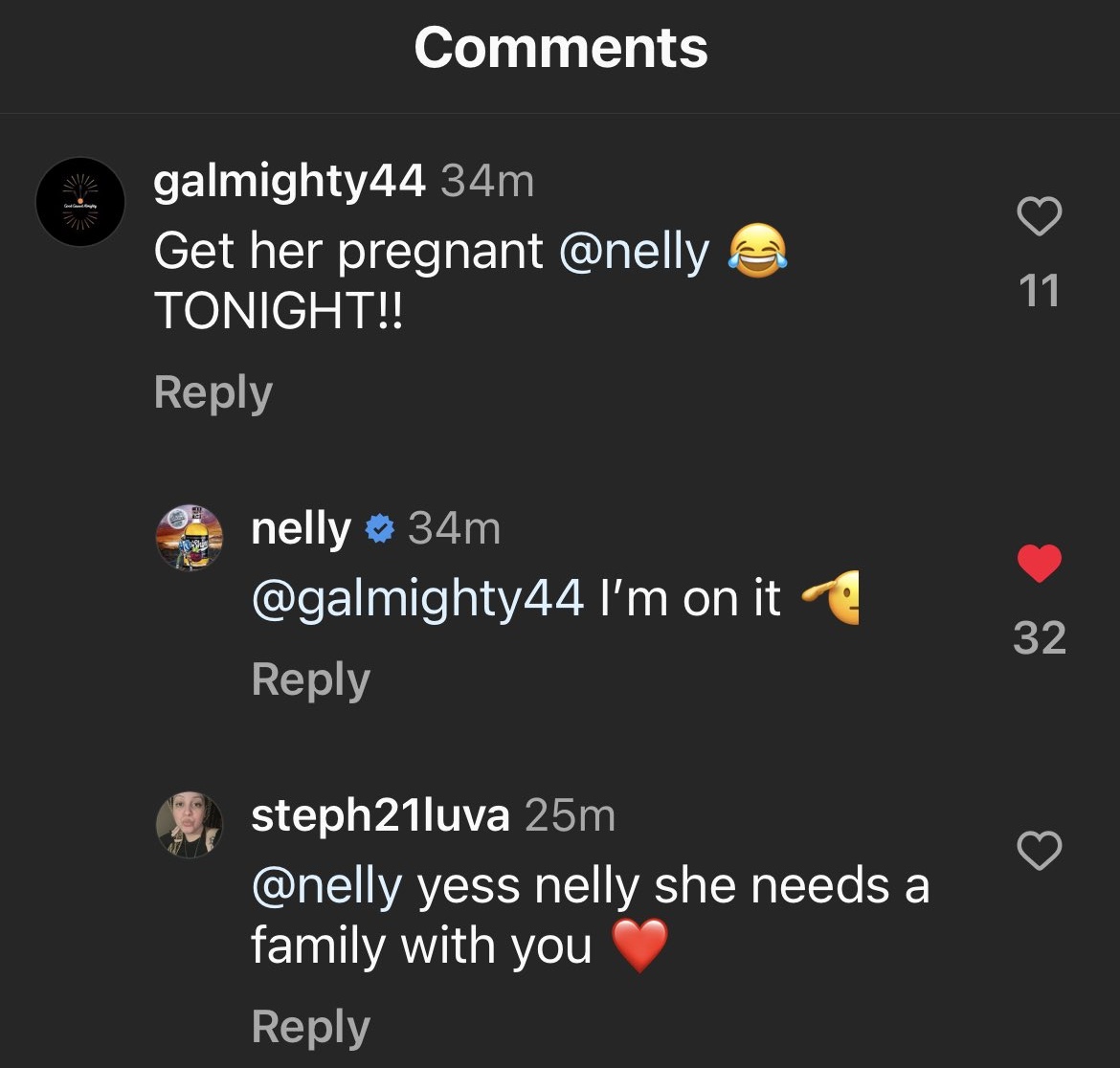 Nelly has two biological children from a past relationship and two adopted children, but Ashanti does not have children.
Ashanti, who just turned 43, has always been open about having children, being married, and having the white picket fence dream. At the book launch of her children's book, My Name is a Story, the "Foolish" singer spoke positively about having children and being prepared to teach them from her life lessons.
"I'm trying to have kids next year. That's what I'm trying to do," Ashanti said on her Instagram Live.
The R&B singer admitted at the time that she didn't find the right person yet to have children with, although some fans suggested Nick Cannon. "You know you need the right person to have kids with you know what I'm saying but I'm trying to have kids next year. I'd be low with my sh*t y'all already know but yeah, that's a very big decision so we'll see what happens," she said.
Late last year, she also told a fan on X that she was ready to have children but waiting for "homie" – possibly Nelly to do the right thing.
"I wanna have kids next year! Hopefully homie does the right thing! #fallingforyou," she responded to an inquisitive fan.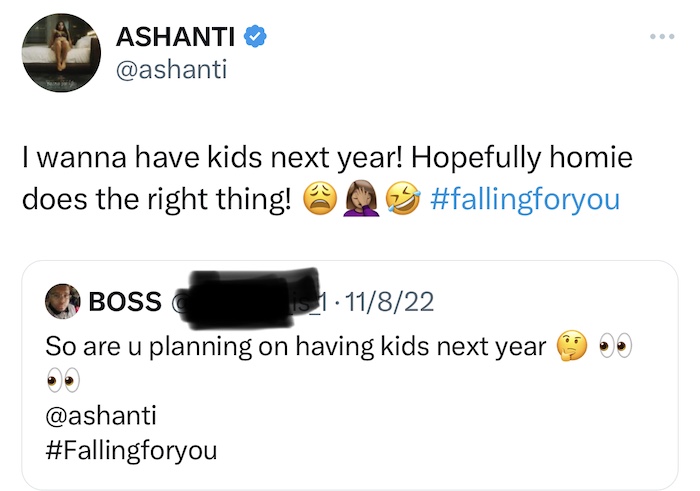 Ashanti has not reacted to Nelly's comment, but I'm sure if there is good news coming, that kind of good news cannot be hidden.
Watch clip of Ashanti telling her fans about her desire to have children below.