Funkmaster Flex has caught wind of the ongoing beef between Jamaican artiste Teejay and Kittitian artiste Byron Messia as both assert rights to the biggest dancehall track for the summer.
The artists fell out last month after Messia sent shots at Teejay, Sumfest, and others. It's unclear the reason for his war with Teejay, but the "Drift" artiste has responded in kind, dissing Byron, who is Jamaican born but raised in St. Kitts.
Jamaicans have also cut off Byron for what they deemed to be an act of disrespect towards artists and musicians on the island after he claimed to have the first successful dancehall song in almost two decades.
That claim has been debunked, but Byron's grace from his Jamaican fans has run out, with many not streaming or supporting the artists mainly because they perceived his comments as dissing icons like Vybz Kartel, Charly Black, and others.
Still, it seems that his and Teejay's beef might take on a different look as veteran hip hop DJ Funk Flex questioned if the artistes wanted to do a musical "challenge" that could see them squashing their beef and coming together on a track.
Funk Flex is no stranger to Jamaican culture, having hosted many Jamaican artistes on his radio show and giving them a chance to show off their freestyle skills. These include Teejay, Shenseea, Stefflon Don, and others.
On Sunday, Funk Flex shared a collage of photos of Byron and Teejay and asked, "DO YOU GUYS ACCEPT THE MUSIC CHALLENGE? YES OR NO? CHALLENGE! CHALLENGE! CHALLENGE! I CHALLENGE TEE JAY! I CHALLENGE BYRON MESSIAH! I CHALLENGE BOTH ARTIST TO COLLAB ON A NEW SONG BY THIS THURSDAY 7 PM ( HOT 97 )," he wrote on Instagram.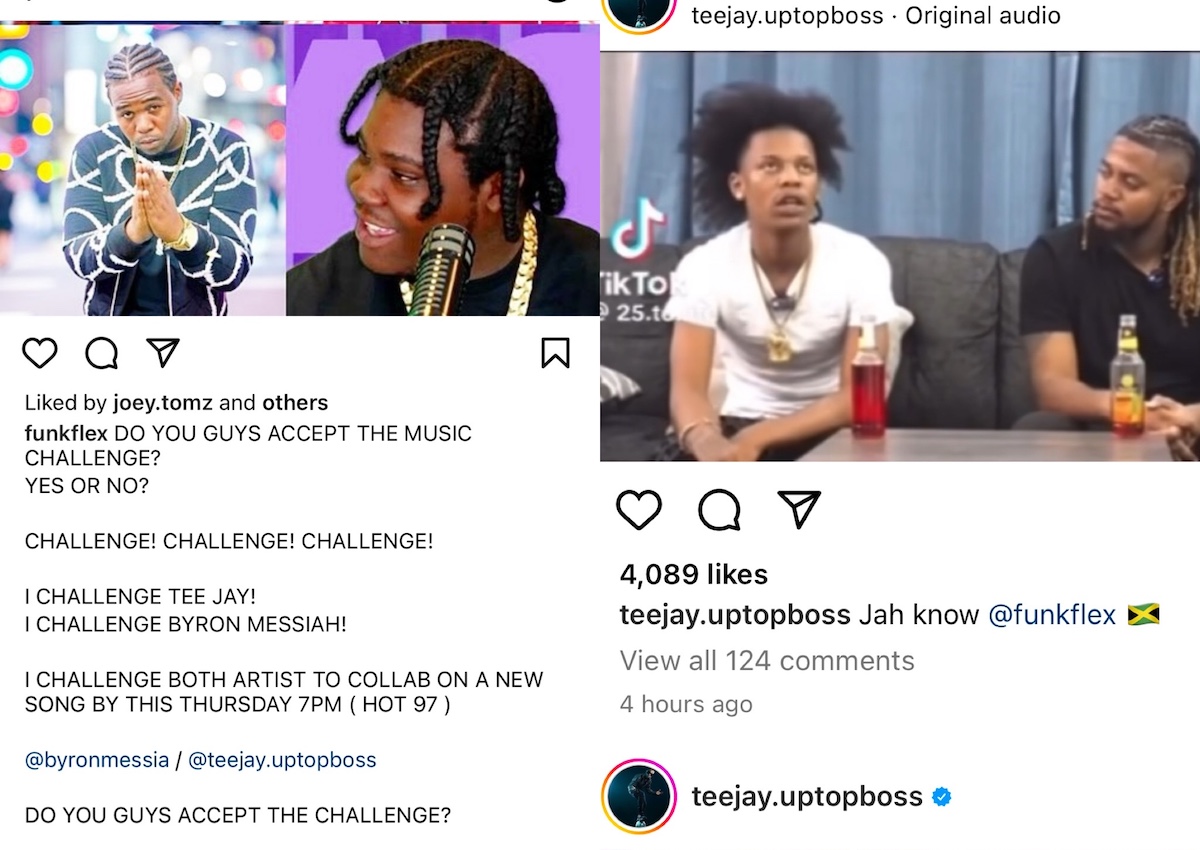 He also tagged both artists and Teejay's manager, Sharon Burke, along with their respective labels, Special Entertainment, Warner Music, and Interscope Records.
Fans also reacted to the call, with reggae/dancehall artiste Barrington Levy seemingly in support.
"A mean its a competitive sport and its also a way to display skills and creativity, as long as its just lyrical war….. this is #dancehall how do you think some of the greats become great #music mon RUN DI TRAAAAAAACK," the "Black Roses" artiste said. "Teejay betta not disappoint me my money on uptop," another fan said. "You do know that's not happening, if ykyk these two don't fw each other," another said.
Funk Flex also responded to followers accusing him of capitalizing on the beef between the artists. "Lol mans don't even know how this started and he trying capitalize off the situation. Go back to dropping bombs and playing on blood 50 times a night," one follower wrote.
However, Funk Flex responded, "None of my business! Move the culture forward!" he said in one comment and added in another, "All of that don't matter! Reggae music is back strong! Let's move the culture forward!"
Some Jamaican fans don't seem ready to forgive Byron with one writing, "Flex, this beef is passed a collab point but you never know. Teejay doesn't need him to make a hit he's been doing that, Byron just got here & we're all a bit confused about what & who he really reppin for with these shaky comments he been making."
In the meantime, Teejay reacted to the question by Flex with a meme from the Let's Be Honest podcast.
"Jah know @funkflex," the artiste wrote with the Jamaican flag.
At the moment, the Uptop Boss says he will at least think about doing the collaboration. However, his camp indicated to Urban Islandz it's highly unlikely given that less than two weeks ago, Teejay accused Byron and his entourage of accosting him and his baby mother as if to fight them while they were out in New Jersey.