NBA YoungBoy's baby mother, Arcola, says she was attacked by the wife and girlfriend of the rapper yesterday after she went to pick up her son from him.
The woman and the rapper shares a son named Kaell, born on January 9, 2022. She and NBA YoungBoy have been at odds many times since last year, as the rapper appeared unhappy with the fact that he and Arcola have a son. It's unclear how they met or the nature of their relationship, but she accused the rapper of not being a father to his son and not assisting her financially.
In a post on Twitter, she claimed that she sent her son to visit YoungBoy, who is currently on house arrest in Salt Lake City while awaiting his trial.
"Watch who you have kids by. My son dad let his whoreS yes whores with an S cause it was 2 of them weak ass hoes. He gave them an order to get me lol you know b*tches who never came from sh*t gone do it. My son was in my hands. His dad just sat back and watched smh," she said in a tweet.
The 22-year-old woman went on to explain that she dropped her son off at YB's in August for two weeks, but the rapper then demanded that she come for the child before the two weeks were up, leading her to tell him to keep him for another two weeks.
However, she said after a month, she tried to make plans for the child, but YB refused to buy the plane ticket for the baby. She claimed that YoungBoy Never Broke Again does not help her with expenses for the child.
"Anytime he ask for his son I drop him off and pay for the tickets. B**tch you don't help with sh*t why I gotta keep paying for the flights," she said, adding that the rapper initially did not want her child but became petty and refused to hand over the toddler despite her asking repeatedly.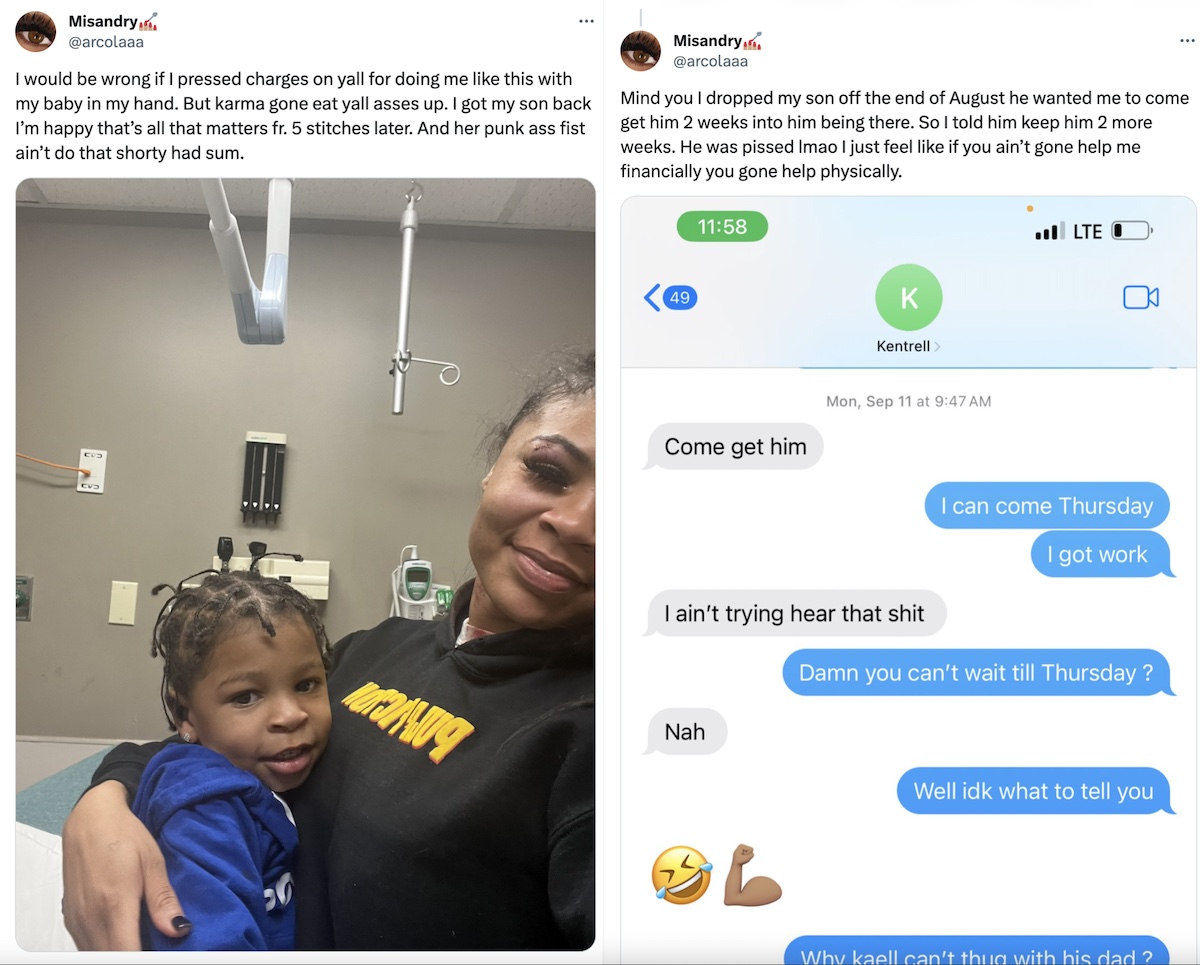 In a video, she claimed that she was hit with a gun, leading to a gash below her eyebrow. She claimed that YoungBoy told the women to block the door as she ran out, and while she was able to take her son and run to her car, both women ran to her car and tried to take the child away from her in the car.
"You know what he kept saying to me? I disrespect him," she said.
In tweets shared online, she claimed that the rapper also assumed full custody of the child, telling her she could visit him on weekends. However, she said she showed up on Sunday at the rapper's house and tried to collect her son when two women attacked her, allegedly at the behest of YB.
According to her, the women were trying to take the child away from her as she held him, and they inflicted blows on her.
"They kept trying to take kaell from me. I cried so hard I even screamed so loud like you'd think I was mental. I was holding my baby sooooo tight I was never letting my son go to swing on you low life whores. I came for my son and left with him," she said.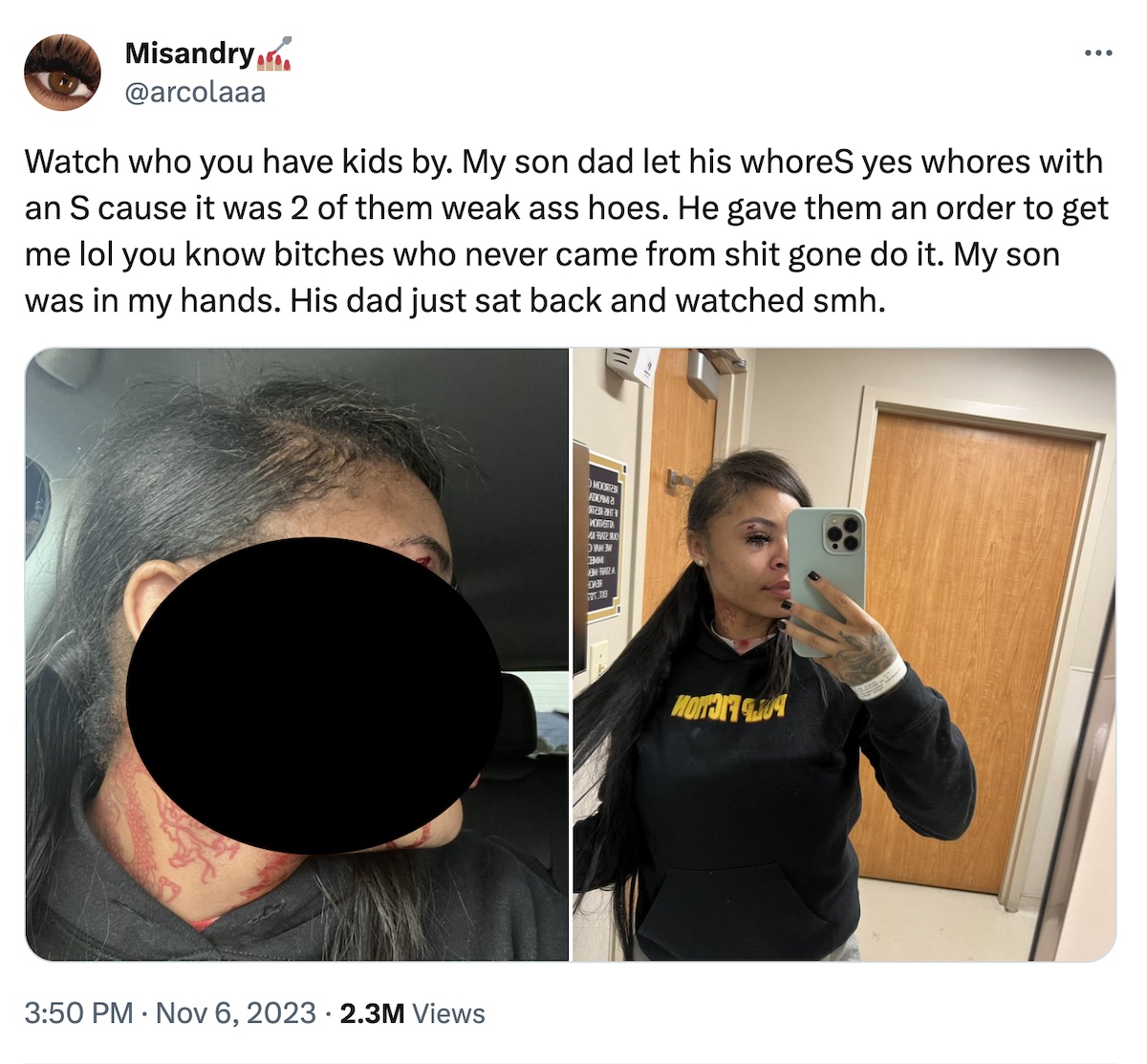 She later revealed that she was not going to press charges despite receiving 5 stitches to the eye area.
"I would be wrong if I pressed charges on yall for doing me like this with my baby in my hand. But karma gone eat yall asses up. I got my son back I'm happy that's all that matters fr. 5 stitches later. And her punk ass fist ain't do that shorty had sum," she wrote.
NBA YoungBoy's bm says she was hit in the face with a gun pic.twitter.com/pw1801pRxA

— SAY CHEESE! ?? (@SaycheeseDGTL) November 7, 2023
She later revealed that the hospital had reported the matter to the police. It's unclear if this matter will affect YoungBoy's ongoing case and home detention.