Coi Leray says Chrisean Rock has lied about claims that she threw her phone at her and that she was trying to get at her baby's father, Blueface.
Earlier this week, the reality TV star claimed that she and the rapper/singer fell out because the latter had nefarious intentions of getting at Blueface under the guise of making music with her. According to Chrisean Rock, that later led to a confrontation between them.
"She wanted what she wanted. She had a hidden agenda when she hung out with me… It's no bad blood," Rock told Jason Lee.
The Baddies star added that in June, while out with GloRilla, she assaulted Coi with a phone for being fake.
"We don't f*** with each other and I'm pregnant… she in everybody face. She said 'Hi everybody, what's up glo' so everybody knows we not cool and I'm pregnant…you can ask anybody that's standing right there, I took out my phone, Imma buy a new one, and threw that b**ch in her face," Chrisean claimed.
However, Coi Leray claims that Rock is lying and she's using her name for PR. "Don't believe the cap," she said in one tweet.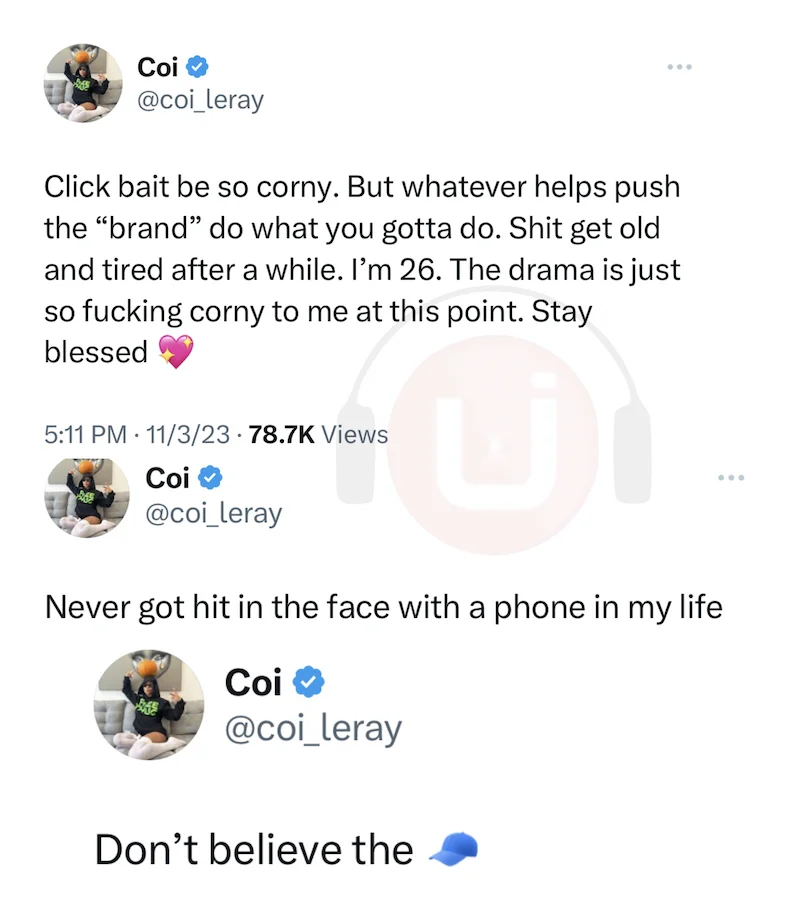 In another, she wrote, "click bait be so corny. But whatever helps push the "brand" do what you gotta do. Sh*t get tired after a while. I'm 26. The drama is just so f**king corny to me at this point. Stay blessed."
Coi Leray also shared a message from her friends and family, who seemed to cheer her up. One message read, "We (women) deal with ppl how we want them to deal with us not how they deserve."
Chrisean Rock also claimed that they recorded a track together, which was never released. As for Coi, it's unclear if she is calling 'cap' on the phone assault or claims that she was after Blueface.