Blueface has stepped forward to address his controversial phone call with Chrisean Rock that she leaked on X.
The West Coast rapper and the Baddies reality star have been locked in a bitter back-and-forth on social media over the past few weeks. Just when it appears that Blueface had the upper hand and gained the most attention from his proposal to Jaidyn Alexis, Chrisean Rock dropped her receipts.
Last weekend, Rock shared a video of a phone call from Blueface that she recorded. She stated that her baby daddy was crying to her about a date she was on with her rumored new boyfriend, Lil Mabu. According to Blue, the phone call may not be as recent as she claimed and was from in September when he went to Maryland to see his newborn son.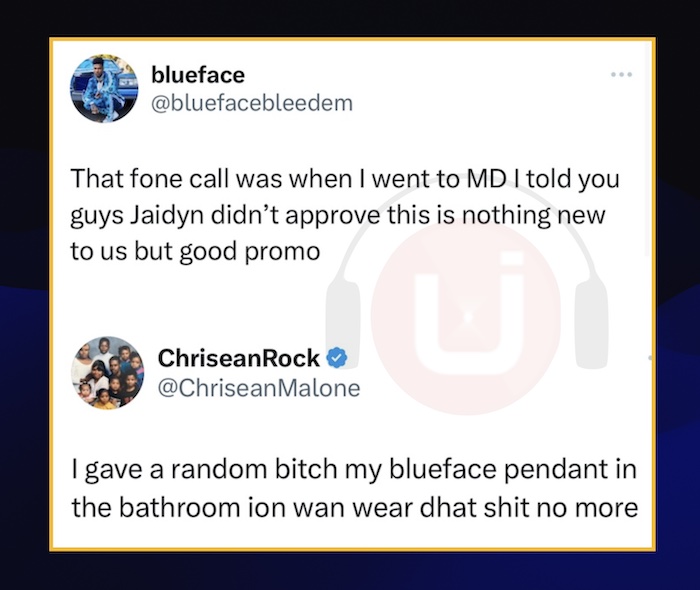 Blueface also stated that his fiancée, Jaidyn Alexis, did not approve of the phone conversation. "That fone call was when I went to MD I told you guys Jaidyn didn't approve this is nothing new to us but good promo," the rapper wrote on X.
In the ongoing saga, Blueface also claimed he had signed Lil Mabu to his music label, although the rising rapper and producer has not confirmed the claim. Mabu and Chrisean's new song "Mr. Take Your B**ch" also reached No. 1 on the TikTok Music chart after fans and celebrities gravitated to it on the platform. Perhaps Blue deserves some credit for the song's success since they attached it to his name to market it. In any case, both of his baby mothers are currently enjoying some success in their music careers.
Chrisean Rock leaked her phone call with Blueface pic.twitter.com/EPLCNlTBOZ

— Urban Islandz (@urbanislandz) November 1, 2023
In the meantime, Chrisean Rock recently did a stint on Kai Cenat's live stream from jail. In one segment, she got emotional after Cenat read a passage from her book. She also used the opportunity to take a jab at Blueface.
Chrisean also shared that she gave away a chain that the "Thotiana" rapper gave her as a gift as she continues to remove from her life all things associated with him. "I gave a random b**ch my Blueface pendant in the bathroom ion wan wear that sh** no more," she tweeted.
Blueface has not yet reacted to her latest statement. He says he is no longer a rapper and is now focusing on being the label guy. He even takes credit for the rise in their Rock and Lil Mabu's rap careers.