West Coast rapper Blueface popped the big question to his high school sweetheart and mother of his children, Jaidyn Alexis, on Sunday.
The pair shared a video of the moment he proposed, with Blueface getting down on one knee and asking her to marry him. Jaidyn nods yes as she grabs the rapper and locks him in a tight embrace with a kiss.
"Oh my God, look at this ring," she says as Blueface grabs her and places the diamond on her finger. Jaidyn is also seen breaking down in tears and crying while Blueface grabs her hand to show off the massive diamond ring. "You making me cry," Blueface said as he hugged Jaidyn. "Babe I'm serious," she says to him. "You serious? You engaged," he said as Jaidyn as its "happy tears."
Blueface also shared a video of himself documenting the moments before he proposed to her. The rapper is seen in the bathroom mirror, where he reveals his plans.
"I'm about to propose to Jaidyn. I'm so nervous. I know she's gonna say yes. But I don't know the timing. I'm at this game and it's half time the timing is weird. I think I'll bring everyone in to make it intimate," he says.
The move comes amid Blueface intervening in his mother and baby mother's spat, with the latter chiding him about not dealing with Jaidyn Alexis, who is of Mexican descent, being colorist towards dark-complexioned women.
Blueface and Jaidyn have been together since middle school and share a seven (7) year old son and a one-year-old daughter. Things have been far from great between them, though as the rapper has publicly cheated and humiliated her over the last two years with his ex-girlfriend, Chrisean Rock.
Blueface and Rock welcomed a baby boy last month but broke up shortly after as he resumed his relationship with Jaidyn Alexis. However, the rapper says it's the right time to commit to Jaidyn. "I know y'all gon be like why you doing it? Listen I'm famous, I'm rich already, I know she ain't doing weird sh*t. I just know. When you know you know. Wish me luck," he said.
Meanwhile, the rapper went off on a rant as he seemingly addressed his mother's comments about his baby mother this week after she dismissed him for defending her, noting that Jaidyn is not a "wife.
"Play wit my wife on sY I can't wait to make example outta somebody," he wrote in a tweet. "Jaidyn got 2 kids 1 BD an a ring she's really HER fr follow behind these Hoes if you want to I got a real b**ch on sY," another tweet said.
He also explained the reason he chose Jaidyn. "I got somebody who ain't never been with nobody else can't nobody say they ever had my wife I won," one tweet read.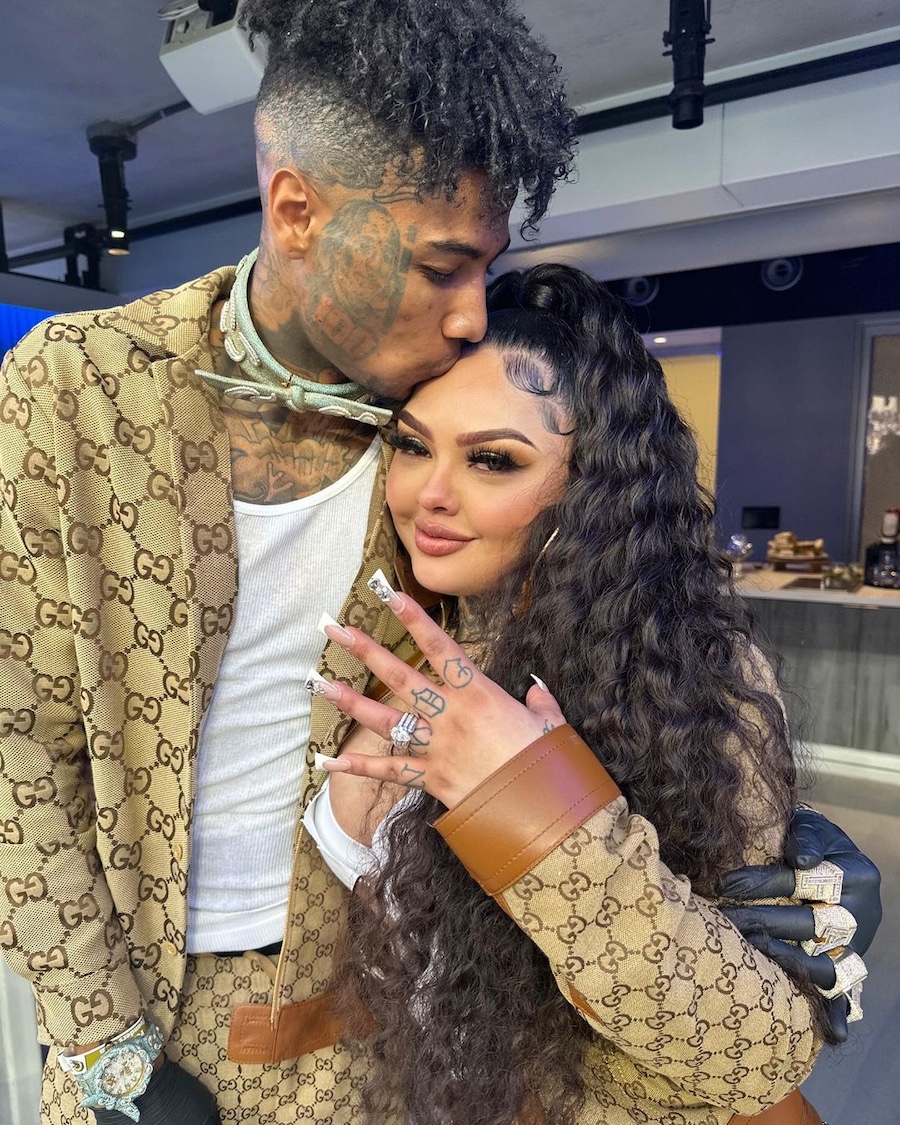 After fans started tweeting him about his mother, the rapper posted a photo of the ring and said he also bought a $30K box at the game so he could propose to Jaidyn.
"I want all y'all tell karlissa post her ring bet she won't," he said in one tweet and added in another, "Karlissa my wife ring is bigger an more valuable then yours since you wanna compete wit my wife let's go ring for ring."
The rapper also mentioned his mother, Karlissa Saffold, shaming his baby mother over her BBL job.
"Post yo ring an ima post mine you wanna compare bootys right karlissa? let's compare rings let's see what typa ring that old Booty got an what typa ring that new Booty got my wife gone always win," he tweeted.
The rapper also added, "Idc bout none y'all talm bout karlissa gone respect my wife on sY," and went on to disrespect her choices in men – "Karlissa married a bum after all them dicks she took she settled for that lil ass ring my wife had one d**k her whole life an bled yo whole life clown."
He continued, "My mother is a whore been married 3 times 3 kids by 3 different men an never married none of them men only random men she liked with a lot of money so she could divorce an take from them an at the end of it all she's sleeping with a bum every night sad story fr could never respect her as a woman."