Lil Mabu has taken liberties as he joins the Chrisean Rock versus Blueface drama and takes shots at the "Thotiana" rapper and his baby mom, Jaidyn Alexis.
Chrisean Rock and Lil Mabu recently released their new track "Mr. Take Ya B*tch," and it seems that she is working hard to convince fans that he is her "new daddy," as the lyrics in the song suggest. Rock also seemingly shared a new tattoo, "Mabu's P***y" around her pelvic area, where she previously had a Blueface tattoo.
While neither has confirmed or denied the relationship, many believe it is a stunt by Chrisean Rock to promote her new music. The issue between them seemed to have begun shortly after Rock's new song came out. While responding to Rock talking about Blueface DM'ing Mabu to stop him from working with Rock, Lil Mabu tweeted "fanned out activity" while tagging Blueface.
Mabu also responded to Blueface on Friday with a provocative tweet directed at Jaidyn Alexis. "Have you ever seen 'Family Guy'?" He responded to a tweet by Blueface asking, "Have you ever seen Malibu's most wanted?"
The family guy reference to Jaidyn is not new; many have said she looked like the baby Stewie. She also seemed to use the reference in a song of the same name to reverse mock her critics.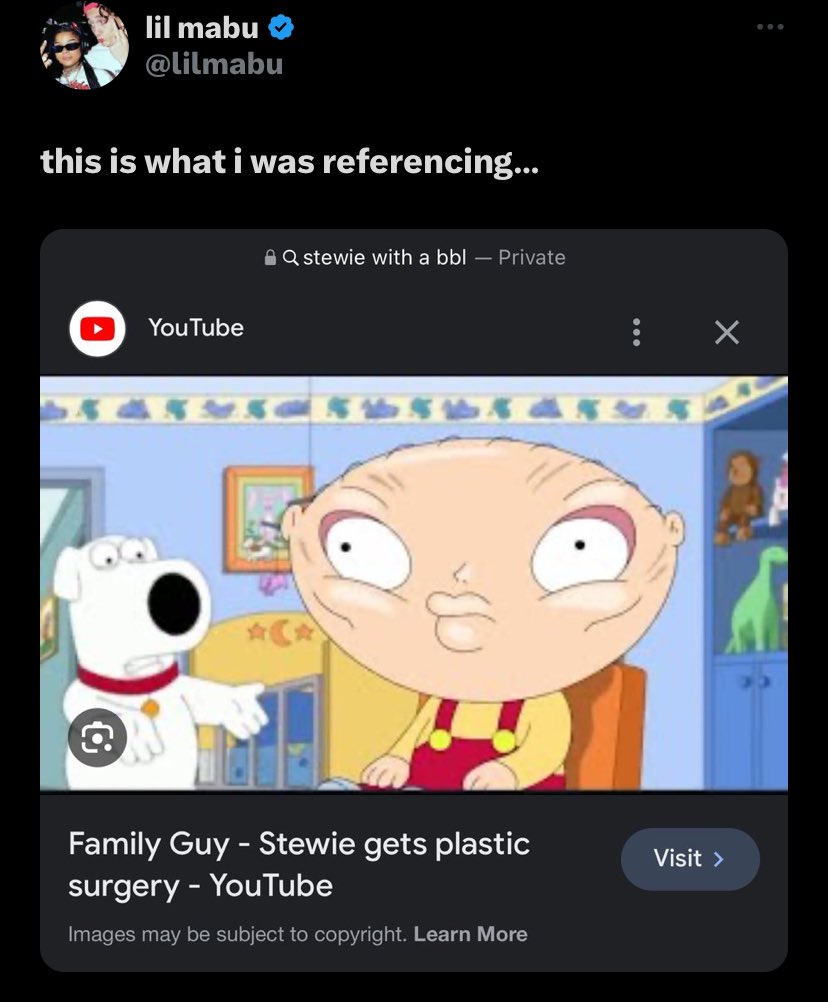 It seems that the two pairs were sparring over who had the better song after Blueface posted a video of Jamaican sensation Shenseea enjoying "Barbie" by Jaidyn Alexis.
Rock and Mabu also posted updates on their song, getting four (4) million views in just a few days.
Mabu also replied to Blueface's tweet that he "liked money," writing, "Me 2 I love Blue Faces, so I took his baby."
Blueface also called Mabu a fan, to which the latter replied, "I love all my fans [blue heart emoji]. Thank you for my #1 on youtube! Keep streaming MR TAKE YA B*TCH." Blueface also said in a now-deleted tweet that the song was "hot dog water."
Meanwhile, Mabu posted a collage of Chrisean Rock before with Blueface and a recent photo of her. "This is what growth look like," he captioned the photo.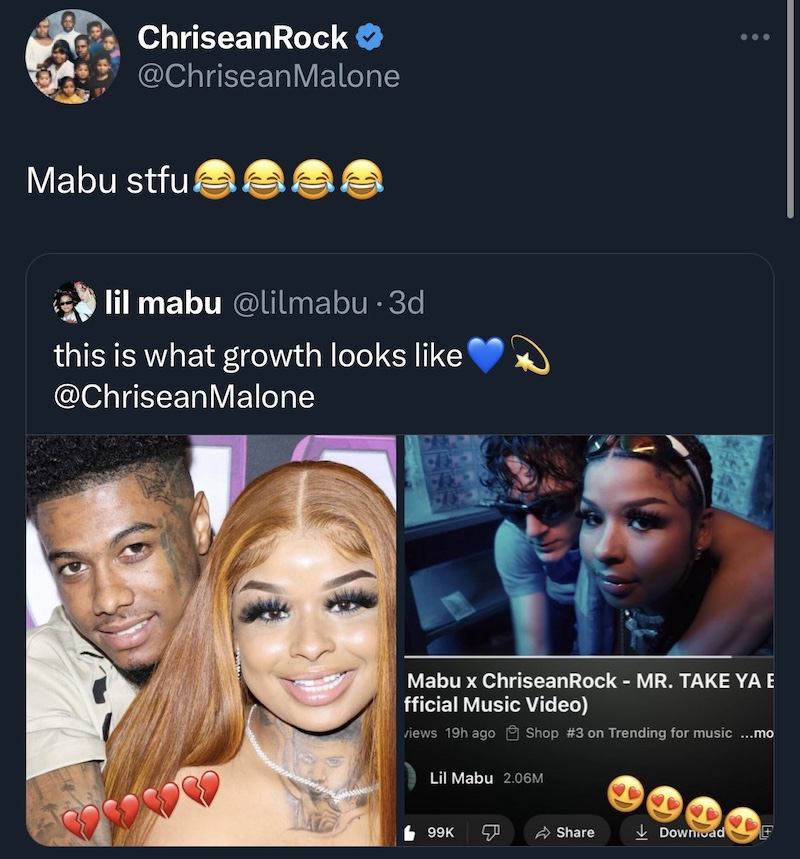 In the meantime, Chrisean Rock debunked reports that she was not the owner of the property she was in despite telling people that was the case. In a video posted on Saturday, she told fans that she had a rent-to-own contract with the owner, and she had already paid up to 12 months rent on the home because she had bad credit and couldn't get a loan.
On Friday, reports surfaced that the property was on sale for $2.6 m and that Rock was a tenant, not an owner.
Meanwhile, Blueface and Mabu aren't the only ones beefing. It appears that Jaidyn Alexis and Blueface's mom, Karlissa Saffold, got into it on Saturday after a short back and forth.
"Respect my wife Karlissa that's one battle you won't win," Blueface warned his mother after she claimed that Jaidyn was making racist and colorist jokes.
According to Karlissa, Jaidyn left Blueface because she was upset he was messing with a black girl. Jaidyn also took shots at Karlissa after leaving a TikTok video captioned – "when his mother thought he left me for good" before her "Barbie" soundtrack came on – "hello mfer."
"I'm just leave this here for meemaw since she never shut the f**k up," she captioned the video.
Me 2?? I like Blue Faces ? so I took his baby? https://t.co/4K9SOaslQ1

— lil mabu (@lilmabu) October 20, 2023
Have you ever seen Family Guy? https://t.co/hzFQf3odwW

— lil mabu (@lilmabu) October 19, 2023