Drake's father, Dennis Graham, is standing ten toes down for his son as he called out Joe Budden for being a hater after the podcaster leveled criticism against the Toronto rapper and the project.
The elder Graham went off on Drake's "haters," most likely Joe Budden and Charlamagne Tha God, who both criticized the OVO artist's latest project in the last week.
Drake's album For All the Dogs is on track to sell just under half a million copies in its first week, but the album rollout has been dogged by heavy criticism from Joe Budden. The rapper-turned podcaster days ago claimed he was not feeling the project as he expected to hear Drake sing about grown-up topics to match his aging fans and their lives.
In the latest feud, Drake took more shots at Budden as he posted more photos from his recently completed 'It's All A Blur' tour.
"I thank god for this life and not having to come to rushed conclusions on Best Buy podcast mics," the rapper said, clearly sending shots to Budden.
His father also popped up in the comments, showing support for him, and called Budden out for talking down Drake's many accolades and achievements.
"It's a f**king shame that a young artist can't do his own thing and enjoy his glory without an old hater mother**ker trying to bust his bubble because he has nothing going on," the elder Graham began in the lengthy comment.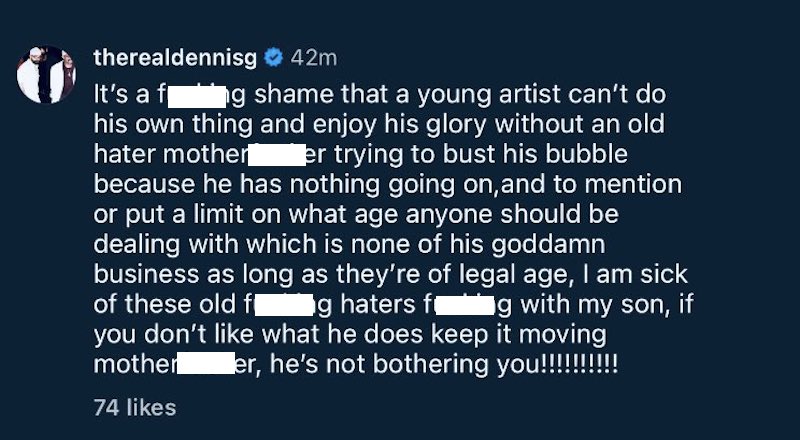 He continued, "To mention or put a limit on what age anyone should be dealing with which is none of his goddamn business as long as they're of legal age, I am sick of these old f**king haters f**king with my son, if you don't like what he does keep it moving mother**ker, he's not bothering you."
Shortly after Drake's album release, Budden aired his displeasure with the content of the lyrics.
"He rappin' for the children. Yo dog, I had to look up how old this n***a was when I finished listening to the album," Budden said. "You are 36. Your birthday is in 20 days. I Googled that, too. You're going to be 37 years old. Get the f**k away from some of these younger n*****as. And stop f**king these 25-year-olds," Budden said.
Drake has been addressing the criticism as he pushed back at Budden's rap career reportedly failing and took shots at him becoming a podcaster because he failed to have a successful career in music.
"[Joe Budden] you have failed at music. You left it behind to do what you are doing in this clip cause this is what actually pays your bills. For any artist watching this just remember you are watching a failure give their opinion on his idea of a recipe for success," Drake said, adding that Budden was a "quitter" advising others on how to achieve "longevity" when his advice didn't work for him.
Budden has not responded to Drake's criticism except by writing a comment, "You'll grow up sooner or later… Father time is undefeated."
The album, which is Drake's eighth release, also signals a shift in the artist's career as he hinted in a Sirius XM interview that he was taking a break from work and the studio to focus on his health and enjoy his life.