Erica Mena has been fired by the producer of Love and Hip Hop, Mona Scott, after complaints that she was racist towards Spice during the last episode of Season 11 that's currently playing. On Saturday morning, the franchise released a statement with Scott Young also leaving a cryptic message on her Instagram profile. "Handled," a photo posted to Scott Young's Instagram profile read.
A statement posted across LHH's social media accounts also featured a short notice announcing Mena's termination.
"The Love & Hip Hop franchise has never shied away from hard conversations in our community. Working hand-in-hand with our partners, viewers will see the impact of Erica Mena's remarks play out in the final three episodes of the season. Effective immediately, she will not appear in the next season of Love & Hip Hop: Atlanta," the statement read.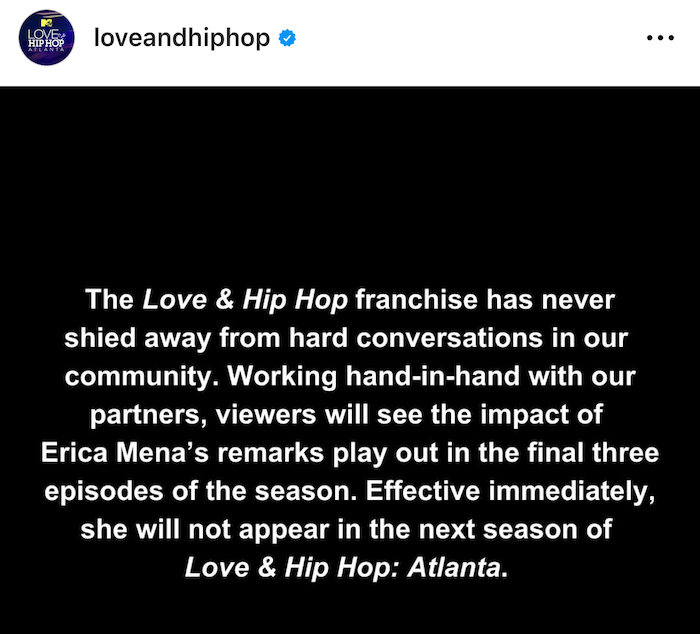 Erica Mena has been a longstanding member of the Love and Hip Hop show after joining in 2011, and she's featured in the New York and Atlanta franchises. Mena was fired after several complaints surfaced over the past week that she was racist in light of the recent blow-up between her and fellow cast member and Jamaican artiste, Spice.
During an argument, Spice insulted Erica Mena about her son being absent from the public eye, and that could only be because Erica was a bad mother and her child hated her. The women were going back and forth as they argued about who had the more difficult job of being a single parent.
Erica Mena, however, took things up a notch as she blasted Spice in front of a crowd of people, which included other LHH cast members.
"That b*tch should have died. you want to mention my kids," Erica Mena says and shouts, "You monkey, you f**king blue monkey," Erica shouted while Spice dealt her own barbs, shouting that Erica's son hates her and that she was jealous of Spice.
Spice had later responded to her on social media, writing, "Kids are off limits right? But I guess it's only when I ask cause where's the same energy when Scrappy and Stevie J talked about it, but now I'm a monkey and should have died on the table? Ok Erica."
Spice Gets Support From Fans Amid Erica Mena Feud
Spice later said she was not bothered by the comments as she knew what she signed up for on reality TV.
Many fans felt Spice was taking the high road and welcomed the decision to fire Mena on Saturday morning. "She still hasn't apologized to Spice, either. I have no sympathy for Erica Mena," one person said. "It's going to be sad to watch Black people rally around Erica Mena against her firing from the show despite her calling Black people monkeys on multiple occasions. They already defended her by shifting the blame to Spice," another said.
In a new interview, Spice says that the incident doesn't affect her and doesn't define who she is. The Queen of Dancehall admitted that she knew what she signed up for when she decided to become a cast member on Love and Hip Hop: Atlanta.
"Not because someone thinks something of me, that doesn't mean that's who I am," she said. "I'm the person that came out with colorism ("Black Hypocrisy") a few years ago. I'm black and beautiful and mi nah bleach. Proud a mi color. I've been done it, said it all, always reminding my melanated women how beautiful they are, to love themselves [for] who they are. Someone can't come and say few words and that's gonna get me into a mood like… No, that doesn't define me, I know who I am."