Summer Walker is denying that she is romantically involved with R&B artist Jeremih after fans saw them roller skating together on Friday night at a popular spot in Atlanta.
If there is one activity that Summer is frequently involved in it would be roller skating as she has shared videos and pictures of herself and her girlfriends often enjoying a night on the town skating.
The "Ex For A Reason" artist was spotted out on Friday night with her friends and family, and videos were shared showing her and Jeremih skating side by side, causing social media users to speculate that she might be interested in dating the R&B veteran.
Summer recently broke up with her actor boyfriend Lil Meech after he was caught on a Ring camera cheating in Houston. The actor did not do much to cover his tracks or deny his behavior, and Walker also publicly blasted him, stating that she was not going to put up with a man who was cheating.
The mother of three took to social media on Saturday as she addressed critics who speculated that she might be moving on to Jeremih. "That man has never touched me & never will, no disrespect," she wrote in the comments section of The Neighborhood Talk.
She also denied that she was on a date. "He happened to be there when I was there, celebs go skating too, T.I, Tiny, Usher, and many more be at cascade," she continued.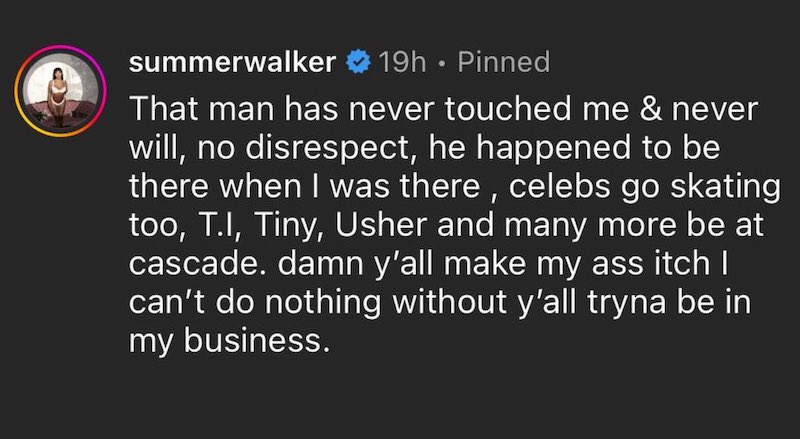 She added, "Damn y'all make my a** itch I can't do nothing without y'all tryna be in my business."
Jeremih has not spoken about the incident, but fans had lots of advice for Summer.
"Cleared !! But we are are Aries girl, they will never leave us alone! They will forever be watching and forever in our business," one fan wrote.
"She can't skate in peace with her cousin," another joked.
Summer Walker and Jeremih at the skate ringhttps://t.co/PMw0vvkJ9t pic.twitter.com/OMTg8YqwD2

— Urban Islandz (@urbanislandz) August 21, 2023