Drake is showing upcoming rapper Sexyy Red love as they met for the first time backstage at his It's All A Blur Tour at Barclays Center in New York on Tuesday night.
The rapper shared snaps of him and Sexxy Red in a cozy pose where he jokingly referred to her as his "rightful wife." Drizzy is known for making his way around the ladies in the industry. "Just met my rightful wife @sexxyred," Drake captioned a photo of him kissing red on her cheek. The "Pound Town" rapper is also seen closing her eyes and pursing her lips as well.
"If my girl see ya'll backstage being thirsty it's gonna get smokey," the rapper added.
Sexxy Red has been getting a lot of attention recently for her song "Pound Town," which was remixed by Nicki Minaj and Tay Keith.
Shortly after Drake's post, searches for "who is sexxy red" skyrocketed on Google, with new sites dedicating whole articles to the rapper.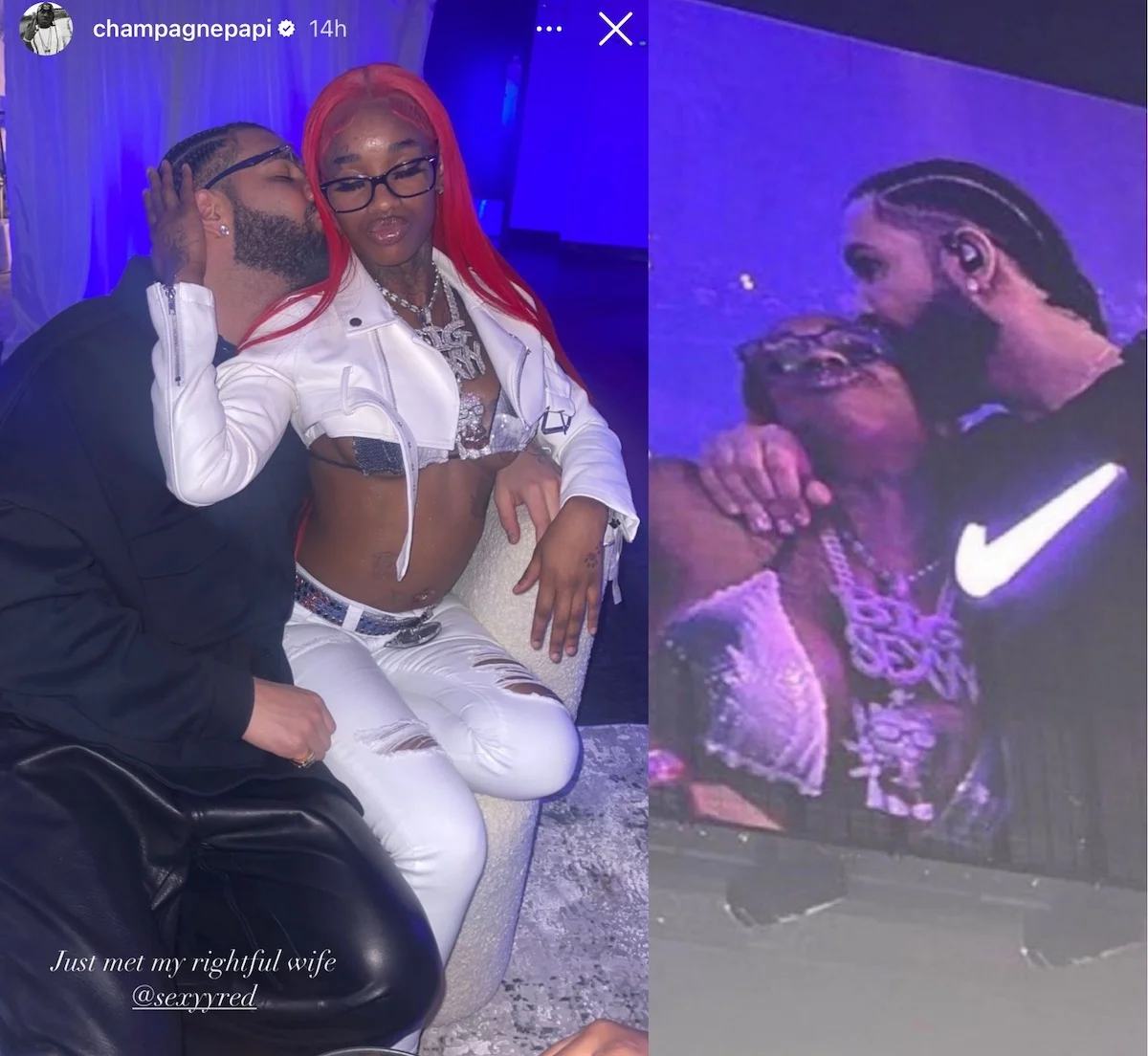 Born Janae Nierah Wherry, the rapper has released songs like "Throwin It," "Born By The River," and others before becoming famous with her latest sexually charged song. The St. Louis rapper has, however, received much backlash for her music, and this week, social media was enraged after she appeared to attend a high school where children were seen reciting the explicit lyrics to her song.
The rapper, however, said that she did not go to the school to perform but rather to give out vouchers to children to get haircuts and for the girls to get their hair and make-up done for Prom, something she never had and wished she had.
Still, despite the critics, the song has been rising in listenership, with over a million streams a week since its release.
"Pound Town 2" with Minaj saw the song peaking at No. 66 on the Billboard Hot 100 chart, giving Sexxy Red her first Billboard hit.
Now with Drake's endorsement, who knows where Red's career will go next? Drizzy has proven himself over the past decade to have the Midas touch and has helped a lot of upcoming rappers' careers with either collaborations or just associations.
Last year, Drake was rumored to be dating Ice Spice after he allegedly flew her out to Toronto. The pair were spotted at the club together around the same time that her breakout single "Munch" started going viral. The New York rapper has since become a household name in rap with several back-to-back hits and even landed a collaboration with Nicki Minaj.
Can Drake do the same thing for Sexxy Red? Only time will tell.