Skatta Burrell personally went and greeted dancehall royalty Minister Marion Hall ahead of her grand return to the big stage at Reggae Sumfest.
Hall, formerly known as Lady Saw, aka the former Queen of Dancehall, surprised her fans earlier this year when she revealed that she signed on to perform at the 2023 staging of Reggae Sumfest. Her announcement came months after Sumfest principals Skatta Burrell and Joe Bogdanovich requested her return to the show after almost a decade hiatus.
Minister Marion Hall's announcement was met with mixed reactions from her fans, with some questioning her motive. Some fans questioned if she is considering an official return to dancehall, while others say the show is not the right platform for the singer who rebranded herself as a Christian minister and gospel artist. Hall countered the criticism by announcing that she would be giving away one thousand Bibles during her performance.
We're now two weeks out from Reggae Sumfest, and Hall has arrived on the island and was greeted by Skatta Burrell, who said he is looking forward to receiving his copy of the Holy Bible. Let's not forget that Burrell has never been shy about being an atheist.
"Went to the airport to greet Dancehall royalty @ministermarionhall and it was truly an anointing feeling.," Burrell said. "Looking forward to collecting my bible at Reggae Sumfest Sunday morning on July 23rd. God is truly amazing."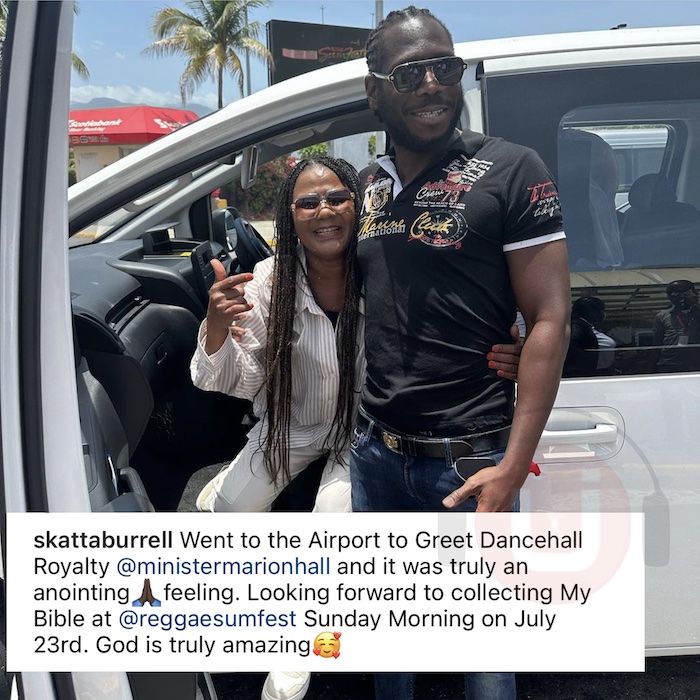 It didn't take long for some members of the Christian community to slide in the comments and accuse the dancehall producer of mocking God. "We all know you mocking God and you need to stop it," one follower wrote in the comments.
"Scatta what u gonna do with the Bible I thought you were an atheist," DJ Smurf added. Another fan wrote, "Y'all want this young generation believe in god and y'all old people mocking god with dancehall. Joke this."
Minister Marion Hall also shared two photos of herself with Skatta Burrell where she expressed her excitement. "Look who come meet me at the airport in Jamaica @skattaburrell My long time friend. Sumfest are you ready for the me and the angels of the LORD?" the Jamaican music legend wrote.
Hall has been getting a lot of support from her fans ahead of her performance at Reggae Sumfest on July 22 at the Catherine Hall Entertainment Complex in Montego Bay. Her performance will mark the first time she is gracing the stage since retiring from dancehall in 2015 and getting baptized and thus relinquishing her crown as the Queen of Dancehall.
"One queen who nuh like that come kiss out a verse and break yuh dutty curse," one fan wrote.