Lil Yachty is setting the record straight as he called out DJ Akademiks, who said Yachty had told him that he took his style of music from Playboi Carti.
Akademiks seems to be creating new arguments weekly, and this time Yachty is not letting him create a false narrative that he only became successful because he took the blueprint from Playboi Carti. Over the weekend, Akademiks took to his Off The Record podcast, where he alleged that Yachty had said to him personally in a studio session that he switched up his sound to be more like Carti.
"Lil Yachty in my studio told me, this is before he dropped "Poland" and all the striking other sh*t," Akademiks started.
"He said he's in the studio with Carti and Carti made him change his entire song. Facts. Like once I heard that I was like dam! 'Carti is like that'. Sorry, I am sorry. N****a I have nothing else to say, Carti is a n****a," he said.
Lil Yachty, however, called DJ Akademiks "insane" and implied that he was a liar since he never said that. "[DJ Akademiks] u r so insane, I didn't tell you this at all. Stop drinking bro," he said.
The rapper went on to give credit to Tyle The Creator for mentoring him to change his style of music. "I said Tyler encouraged me to take that route. Wtf," he added.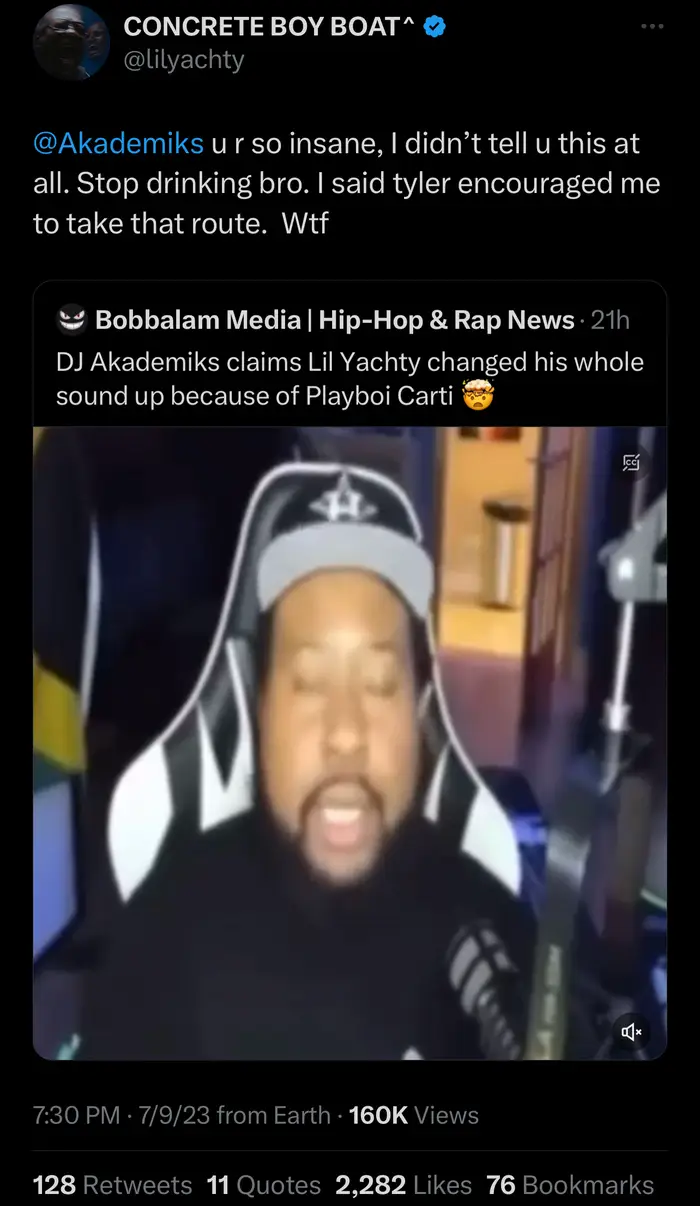 Yachty's change in music style recently occurred with the rapper going from lukewarm to hot immediately after the release of his now Gold-certified single " Poland" in October of 2022.
The rapper's success streak continued with 'Let's Start Here' released earlier this year, moving him from more of a cloud rap artist to a mainstream act.
That project which straddles Psychedelic rock, Psychedelic pop, and Funk, has gone on to win Yachty sold-out stadiums across the world and added a boost to his previously lackluster career.
DJ Akademiks claims Lil Yachty changed his whole sound up because of Playboi Carti ? pic.twitter.com/hTICZCJWAl

— Bobbalam Media | Hip-Hop & Rap News (@Bobbalammedia) July 9, 2023