Gunplay has taken the high road and has served DJ Envy with a cease and desist amid their recent online spat where the two men threatened each other with violence.
The legal stopper comes after Gun Play posted a video of their leaked conversation where Envy was confronted for his remarks about the rapper's daughter. The rapper announced the cease and desist on Friday and said that he was asking his wife, Vonshae Taylor-Morales, to handle things.
"I married a PhD in criminology Karen a$$ Fed good luck I'mma let her take it from here buddy!" the caption read.
The letter charged that Envy's statements caused Gunplay and his wife mental anguish.
"It has come to my attention that you have been making statements about my client(s), Vonshae Taylor-Morales and Richard Morales (Gunplay), that are false and misleading. These statements were averred and disseminated by you and your associates on a national, if not international level through a public forum. This has caused substantial harm to my clients' mental health, as well as their character and reputation which further, adversely affects their present and future interests. These statements constitute slander, defamation, and potentially, violations of statutory law across several jurisdictions."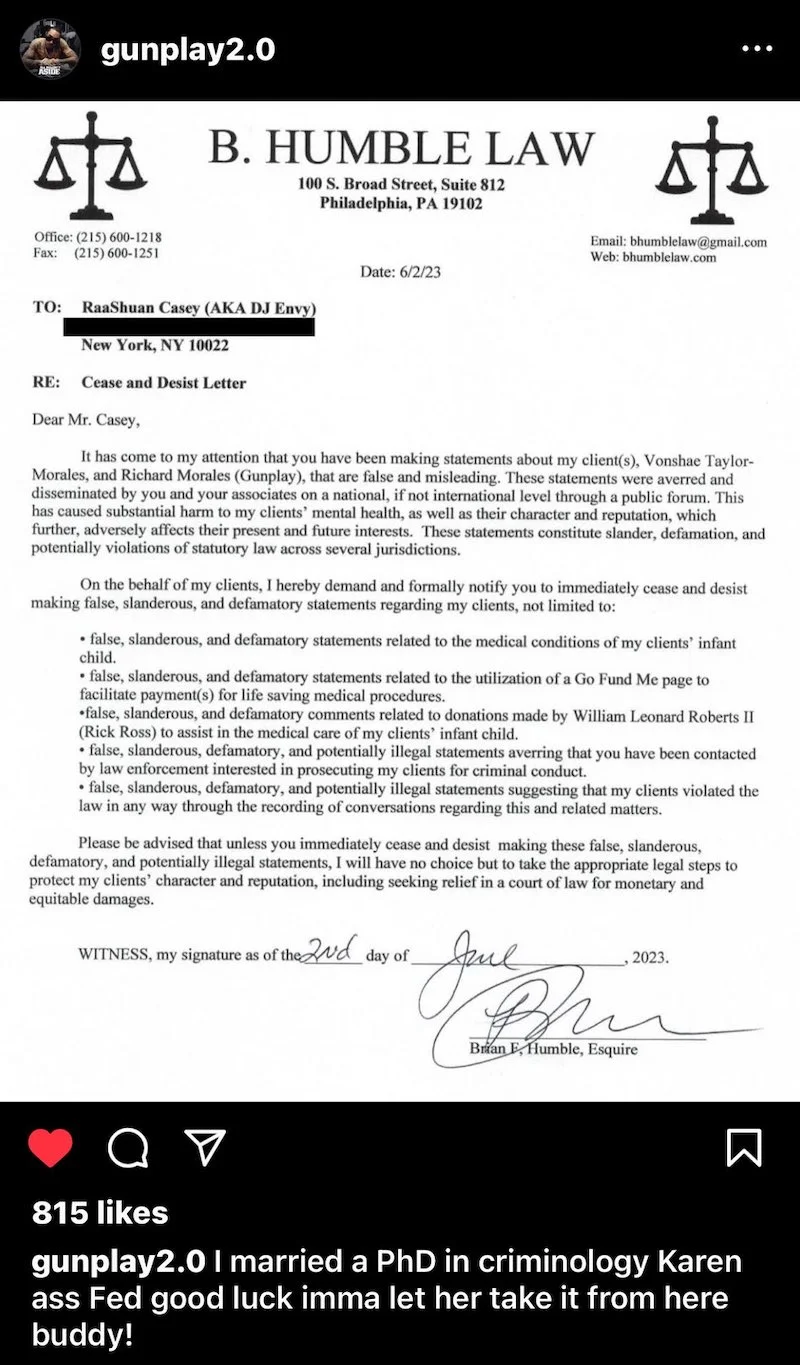 The letter warned Envy that continuing his false and defamatory statements will result in the couple seeking damages for reputational injury.
DJ Envy has not acknowledged the letter, but fans roasted the rapper for bringing the law into play as he refers to himself as "gangsta."
"Envy taking legal system Ls from Gunplay of all people. Dude need to cease and desist all beefs immediately. Just shut up and get back to being CTG number 2 on ya radio show fam," one fan said.
"If @GUNPLAYMMG really sent envy of paperwork from his lawyer I'm officially only listening to R&B because these rap ninjas out here singing away. Gotta change name from gun play to snitchplay if the real ! But then again Ross sued @50cent gunplay just like his OG or OG CO," another said.
The spat between Gunplay and Envy came after he reportedly made comments about the rapper's daughter's GoFundMe raising more than $30,000 so she could have emergency heart surgery.
The rapper posted a recording of their phone conversation where he confronted Envy, who denied disrespecting Gunplay.
"I wasn't trying to disrespect you. I wasn't talking about your daughter. If you feel like you were disrespected, I'm talking to you like a man. I would never. If you feel I did, I apologize. That wasn't my intention."
Envy had also commented on the Breakfast Show that the rapper might have committed a criminal offense by secretly recording their private conversation.