Football fans have gone wild after spotting Megan Thee Stallion and Inter Milan football star Romelu Lukaku together as his plus-one at a colleague's wedding.
Photos and videos have surfaced online, causing fans to speculate that Megan and her longtime boyfriend, Pardison Fontaine, were no longer dating. There were rumors that they had broken up sometime last year, and they had unfollowed each other amid the ongoing Tory Lanez felony trial.
According to reports, Megan had accompanied Romelu as his plus-one at his friend Lautaro Martinez's wedding.
Photos and videos showed the pair conversing privately, with Megan's bright red hair and silhouette identifying her. The 29-year-old Belgian footballer is one of the biggest stars of Inter Milan that plays in the top-flight league, Seria, in Italy. Lukaku is also popular with fans, having scored ten times over the current season.
There is a video showing Megan sitting at a table next to fellow baller Stefano Sensi at Martinez's wedding to his longtime fiance, Augustina Gandolfo, which took place in Como, Italy, yesterday. Among the star-studded guest list were his colleagues from Inter Milan and Argentina teams, Brighton midfielder Alex Mac-Allister and Chelsea player Enzo Fernandez.
On social media, fans reacted to spotting Megan and Lukaku together at the wedding.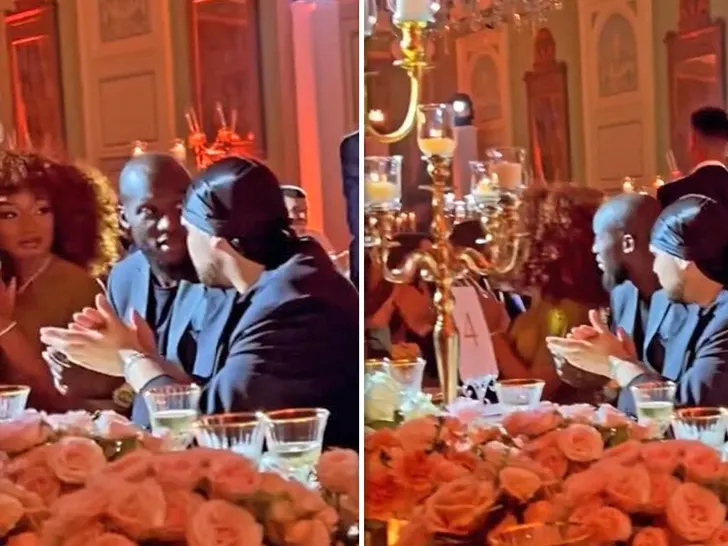 "Romelu Lukaku and Megan Thee Stallion at the wedding of Lautaro Martinez. All Hits No Misses!!" one fan wrote.
"Lol. Lukaku really is with Megan Thee Stallion. Can't believe my eyes," another said.
"Lukaku and Megan Thee Stallion is not a couple I would have put together but now I've seen it I can confirm it makes so much sense i like it," another added.
Megan and Pardi's relationship appeared to have ended sometime around February of this year after fans noticed that they had unfollowed and deleted photos of each other on Instagram.
The couple began dating in 2020, but it seems that their relationship began to fall apart as the Tory Lanez trial picked up steam. Damaging testimony, including Megan Thee Stallion lying in an interview with Gayle King that she never slept with Tory Lanez and later recanted on the stand during the trial, also caused her critics and haters alike to ridicule Pardi.
The singer/songwriter was also very silent as many attacked Megan Thee Stallion online even after Lanez was found guilty on three charges of shooting the rapper. He did, however, defend her after DaBaby seemed to claim in a song that he had also slept with the Houston rapper in 2020, around the time she reportedly dated Tory last year.
Megan has been visibly absent on social media and has only recently begun sharing snippets of her life which include a healthy weight loss and rocking her natural hair everywhere.
As for Lukaku, it seems that he is also newly single after dating his ex-girlfriend Sarah Mens for five years and breaking up sometime earlier this year.