Kabaka Pyramid celebrated his 37th birthday on Wednesday night with family, friends, the media, and fans as he performed some of his hit songs.
The humble artist, whose real name is Keron Salmon, celebrates his birthday on April 20th, but he serenaded fans to show his gratitude for their support over the years, particularly regarding his recent Grammy award for Best Reggae Album for The Kalling.
Among those who turned up to celebrate with the artist were members of the local media, Nadine Sutherland, Dancehall professor Dr. Donna Hope, Tifa, Jemere Morgan, and many others. The event was held at The Summit.
The artist's birthday celebration doubled as a celebration of his Grammy win, which he says he's grateful for, and he thanked fans for supporting his music. "It's a great feeling, man. Ah whole heap ah work me put in. Keep supporting positive music. We have to champion positive music, that me deh yah fi defend from start to finish," the artist said.
He also added that he wanted to make a positive impact on the youth and contribute to the legacy of Jamaican music, which is legendary abroad.
Kabaka Pyramid also shared a birthday tribute to himself and his mother on IG. "My 37th lap around the sun was incredible. Highlight would have to be this moment here. And sharing it with the one who gave birth to my physical vessel made it even more special. Thankh you Mama!" he wrote.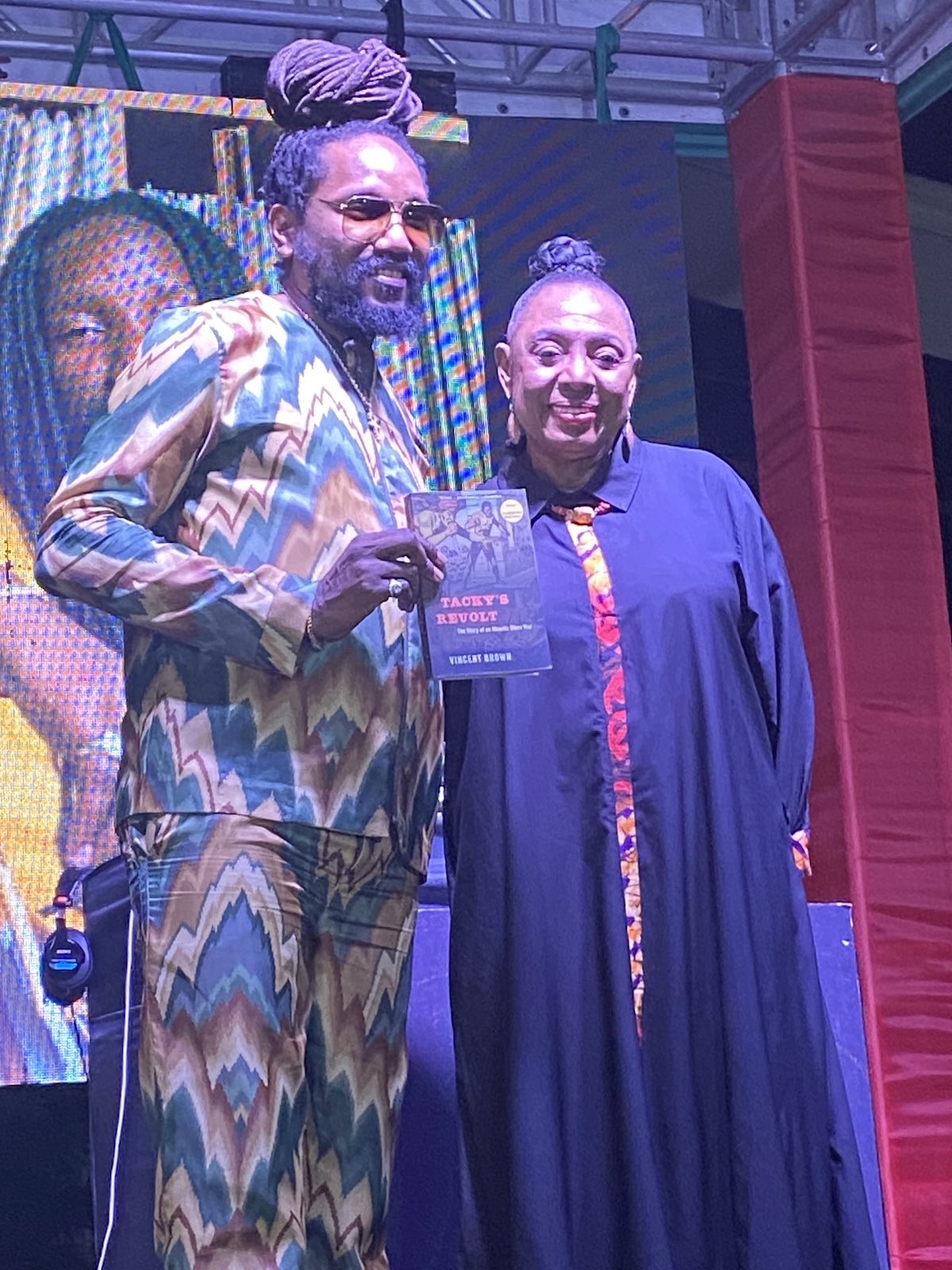 Artists Jemere Morgan and Tifa also performed alongside the artist. He and Tifa performed their song "Mr. Rastaman," much to the amusement of fans, while he also delivered a performance of hit songs from his album, leaving fans raving on social media.
The album The Kalling was released on September 30, 2022, and was later nominated and won him his first Grammy award after being in the business for more than a decade. The album has achieved 10 million streams on Spotify since its release. It sets a new record for the reggae artist who grew up in music and had been working consistently since his late teens and twenties.
Kabaka Pyramid was also gifted a book about Tacky called Tacky's Revolt.