Spice has shared a warm thank you message to the Atlanta surgeon who helped save her life last year. Urban Islandz reported last year that Spice was hospitalized in the Dominican Republic republic for surgery complications. The Queen Of Dancehall recently shed light on the severity of what happened to her in the Dominican Republic, telling her fans that she passed away on the operating table, but doctors were able to bring her back.
After doctors brought her back to life in the Dominican Republic, Spice, real name Grace Hamilton, was still not out of the woods. Her family then flew her to Atlanta, where BBL Surgeon Dr. Nicholas Jones performed a series of surgeries that ultimately saved her life.
"I have to keep showing gratitude and this one is a big time THANK YOU to this Surgeon who accepted me in Atlanta when I had my near death experience in D.R and my case seemed hopeless," Spice wrote. "So FYI I was taken back to the Atlanta directly to the hospital where this surgeon @drnipandtuck did another surgery on me immediately because the Sepsis infection was so bad after the hernia happened, My chest was left opened and he had to do an immediate procedure as I landed. So I basically did 3 surgeries in 2 weeks @drnipandtuck Thank you for walking me through this entire ordeal until I'm now healed and my wound is finally closed."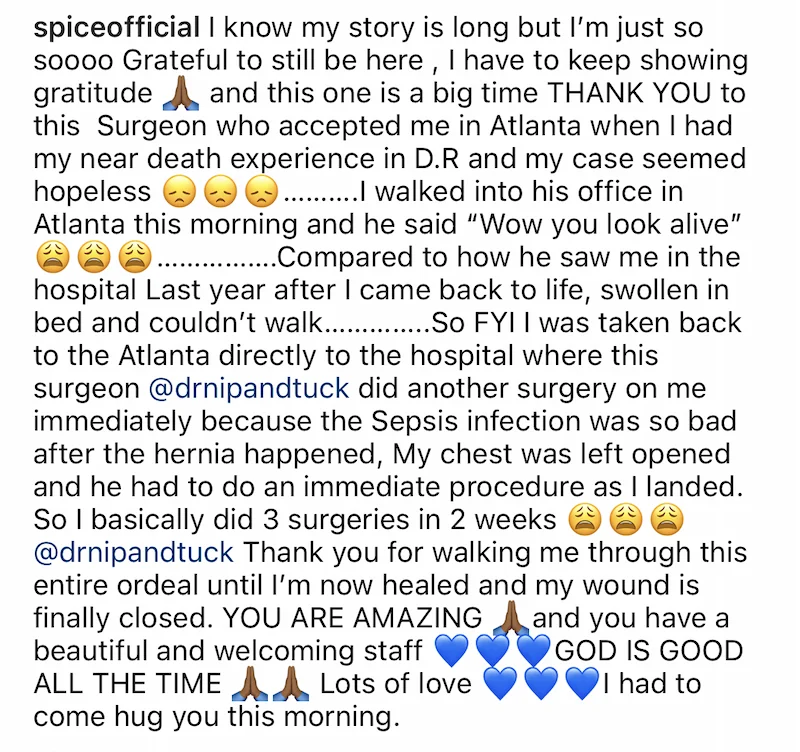 Spice says she is now fully healed and her wounds are closed before thanking Jones and his staff for being there with her on her journey back to one hundred percent health. The Love and Hip Hop Atlanta star also shared a clip of herself and Dr. Jones asking her to teach him some Jamaican patois, the native language in Jamaica. She ended up teaching him how to say popular Jamaican phrases like "wah gwaan" and "big up yuh self."
Aside from taking care of her health, Spice is back to regular programming with new music and performances. Yesterday she announced her new song, "Queen of the Dancehall," will arrive on April 11. She has already released two new singles since the start of the year, "God A Bless Me," and "Spice Marley."
Spice is one of the most influential and dynamic artists in dancehall. She has led the female dancehall movement for years and was officially crowned the Queen of Dancehall in 2022 at Reggae Sumfest. Her often provocative lyrics and bold styles have helped her develop a loyal fan base over the past two decades.
Over the years, she has released several mixtapes and two albums, including the commercially successful Captured, Emancipated, and 10, which earned her a Grammy nomination for Best Reggae Album. She also has her own clothing and handbag brand and numerous other initiatives like her talk show Spice It Up.
Spice teach her surgeon some Jamaican Patoishttps://t.co/X9xoTPeFl1 pic.twitter.com/b8YWOkQuap

— Urban Islandz (@urbanislandz) April 5, 2023