Bounty Killer and Spice are lauding each other for their decades of service to dancehall music.
Spice is getting a lot of love from the dancehall space months after returning following a near-death experience due to surgery complications. The artist broke her silence for the first time a week ago with a stunt pretending that she was pregnant. She later explained the publicity stunt was metaphoric for her new lease on life, a rebirth following her experience.
Since then, Spice has been in a mood of praise to God as she revealed that she died on the surgery table and had to be revived by doctors. The artist recently released two new tracks, "God A Bless Me" and "Spice Marley," which have her fanbase active on Tik Tok. Many have been welcoming to her, including the likes of Bounty Killer and Amari.
On Tuesday, Spice reposted an endorsing comment from Bounty Killer, who seemed to shut down any talk of competition coming from any female dancehall artist. "Baddest woman bout ya who vex," Bounty Killer wrote.
Spice also acknowledged Bounty's endorsement, writing, "the GOAT my inspiration, done talk [blue heart emoji]." Bounty Killer added, "only a GOAT knows a GOAT 25 yrs of dominance it's over no other ain't near or close stay great and grateful Grace we love you girl."
Spice also shared that she needed no other validation from anyone. "Public service announcement! All who no rate me, no haffie rate me again, trust me from THE BADDEST AND THE GREATEST TO EVER DO IT, RATE ME THEN MI GOOD @grunggaadzilla The Goat has spoken," she said.
She added, "Let me close the door and cut my ten and read newspaper bye FYI I still scream and gwan real bad and frighten when @grunggaadzilla talk who don't like it bite it."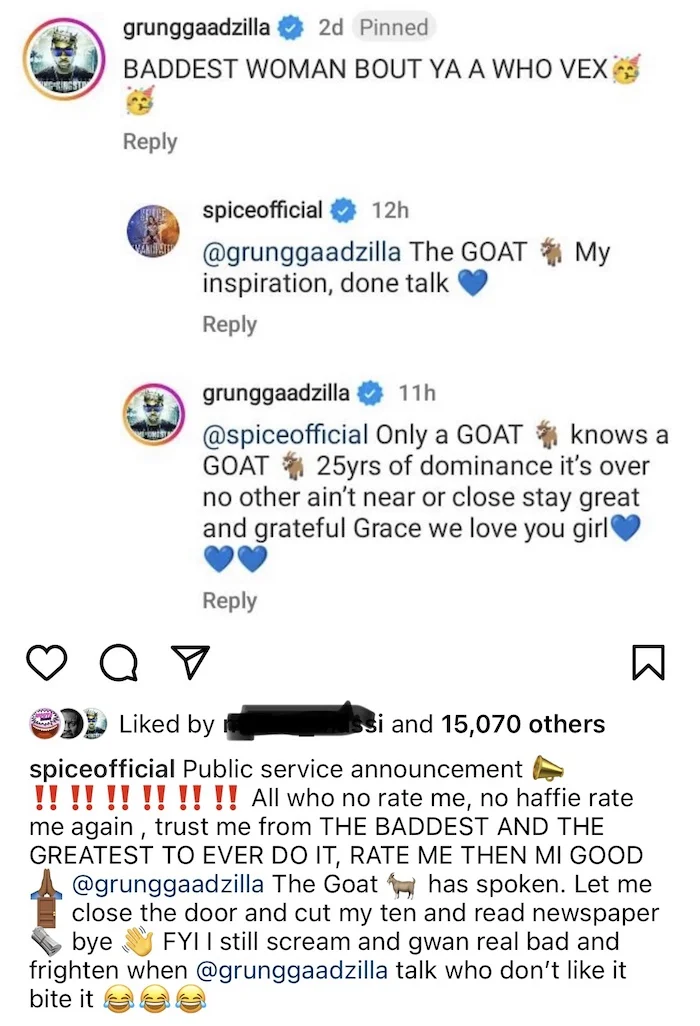 Spice and Bounty Killer have both supported each other over the years, with the Queen of Dancehall even credited him as being the one who offered her a platform to perform for fans for the very first time. The Braeton, St, Catherine native revealed in 2020 that Bounty was the one who allowed her to perform for fans which led to her dancehall career starting. During that era, many artists needed a platform from an established artist to soft land into the dancehall space. For Spice, Bounty Killer's endorsement guaranteed her one foot in the door while her talent did the rest.
Over the years, she continued to shower the dancehall veteran with praises.