The lyrical clash between Bounty Killer and Mr.Vegas has gone to another level as Bounty reportedly shared a video of a woman claiming that she was sexually assaulted by the dancehall artist when she was 13 years old and he was 22 years old.
A video shared by Bounty Killer on Saturday night featured the woman whose name is "Mel" being interviewed off-camera. The woman alleged that Mr. Vegas raped her from the time she was 13 to 16 years old, and her mother received monetary favors and was allegedly knowledgeable of the alleged rape.
According to her, Vegas was her family friend, and he was close to her mother when he came around her home. However, he began to make sexual overtures at her despite her being a child, and her mother had known and excused the artist's behavior. She implied that her mother took money from Mr. Vegas, and she knew he was sexually abusing her.
"She was aware. All I was hearing was that you know we need the money to eat, you know we need the money for school," the woman said. "At first, it was like you were a close family friend and then I realize you were running some jokes and you started to hit me on my butt and trying to touch me on my breast and I draw my mother attention to it and [she was like] 'he's only playing."
The woman says she only wants Vegas to acknowledge that he abused her. She claimed that she would make fake accounts to comment on Mr. Vegas's Instagram account, and she has been calling on him to admit he abused her for years now.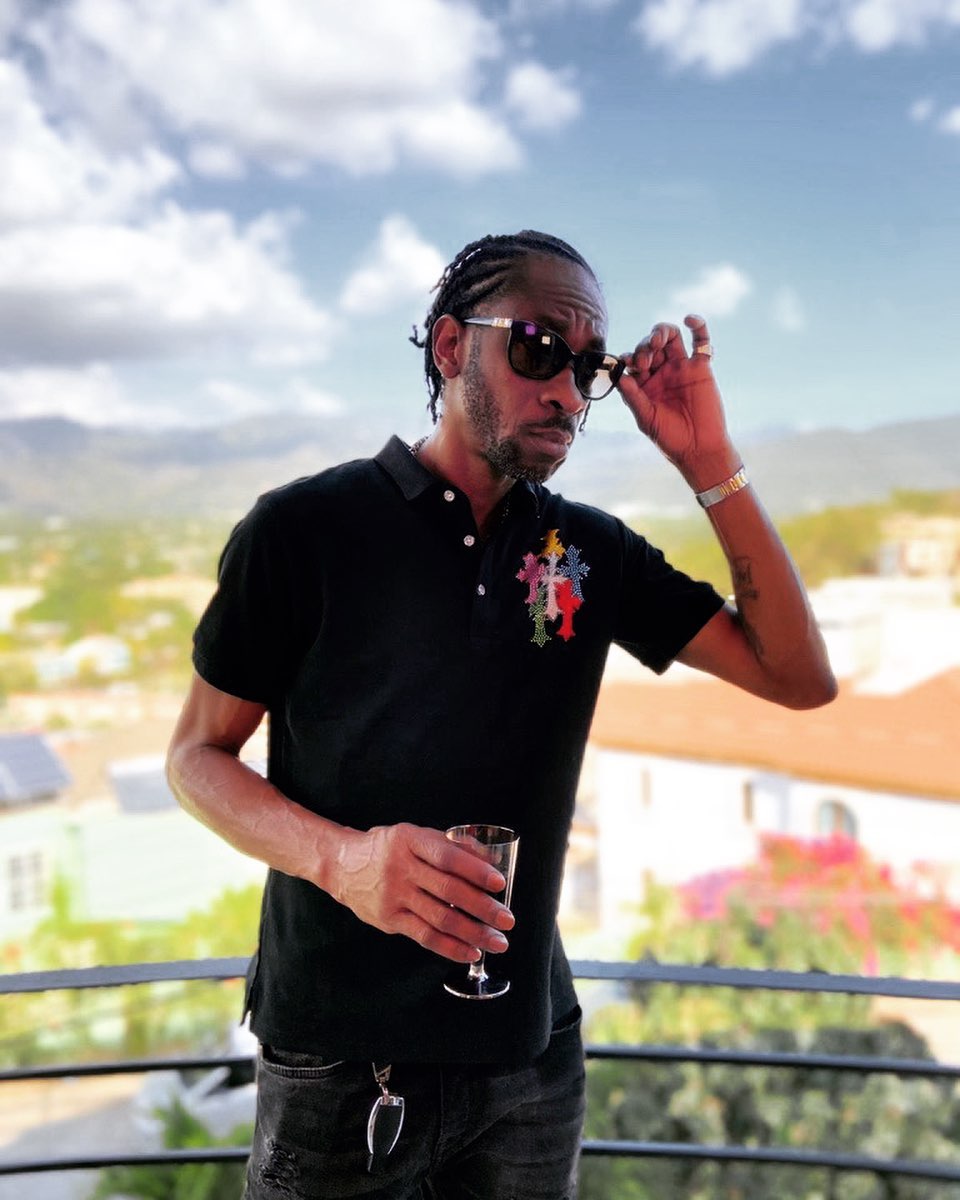 The woman is said to be Guyanese. She spoke about the incident and how it affected her.
"You not giving yourself to somebody, right? And they taking it, and that is like rape, somebody raping you. Imagine as a child, you're telling somebody to stop, that was your first time and they are still forcing dey self on you, and all when you go to your mom all she would say you would heal, you would get better, you know I can't do it."
The woman said that she never reported the incident because she never had faith in the police and because her mother had also allegedly supported Vegas in the allegations.
On Saturday afternoon, Mr. Vegas seemingly acknowledged the woman as he shared a screenshot of messages they exchanged. In those messages, the woman tells Mr. Vegas, "mi nah stop post pon you page."
Vegas replied, "you doing this to me just because me a call out the pedophile mr handsome," he said referencing his feud with Bounty Killer in which he alleged that Bounty is a pedophile and impregnated a female who was not yet the age of consent.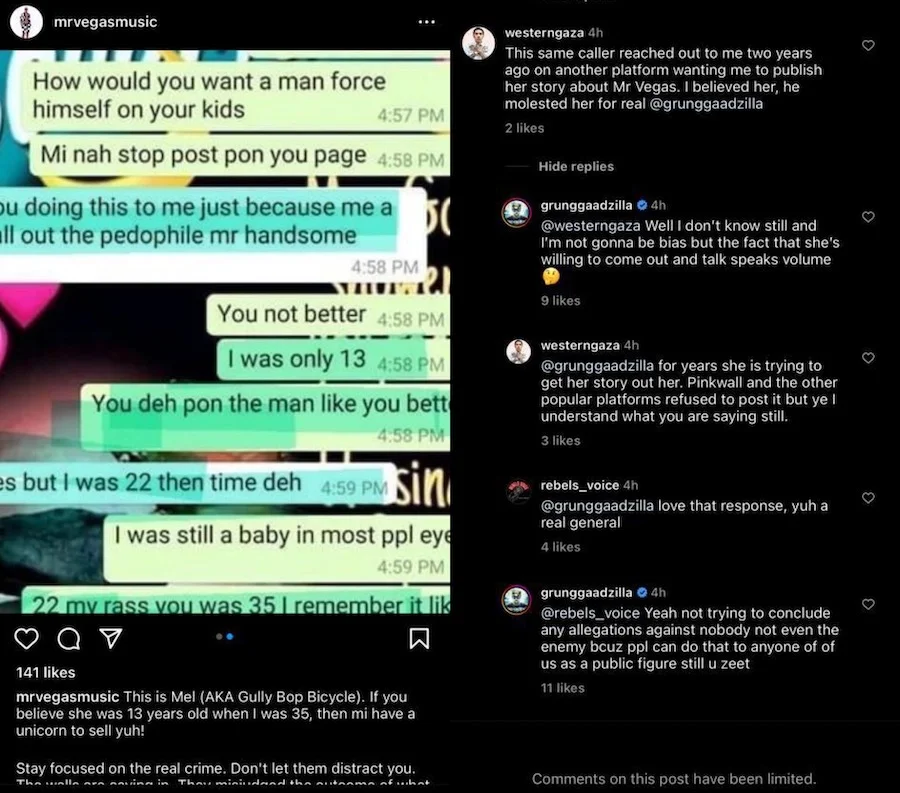 The woman replied, "I was only 13," in one message and added in another, "you deh pon the man like you better."
The "Gyallis" artist acknowledged that he was older than the woman, writing, "Yes but I was 22 then time deh."
The woman also disputed his claim noting, "22 my ass you was 35 I remember it like yesterday."
In a caption on his Instagram account, Mr. Vegas referred to the woman as "Gully Bop Bicycle" and in the comments, claimed that the woman was old enough and "coulda be mi madda," as he urged fans to "don't get distracted."
Meanwhile, Bounty Killer also calls out Mr. Vegas, who has created the nickname "pedo boy" directed at him.
"So as a man thinks so is he hear who's the real pedo me and u not the same poop worm boy and none of y'al ever seen or heard me being accused by anyone."
Bounty Killer, in the comments of his post, also acknowledged that the allegations were damning and not something he even wished on his enemy, but if the woman was willing to speak publicly, then she shouldn't be dismissed without being heard.
Mr. Vegas has not addressed the claims.