Drake is on the mend after receiving medical attention for his ankle. The rapper shared on Thursday night that he had to seek medical attention, but he did not give more details except for a few photos showing his ankle strapped up with tape.
The Canadian rapper shared a few photos on his Instagram account where he shared hope that his foot would be better by the weekend. "Thank you Atria NY for the best health care experience I have ever had…let's see what I can do on this piece of sh*t ankle Saturday," he wrote.
The weekend reference is to Drake's upcoming Live From Apollo performance at the world-famous Apollo Theatre in New York on January 21 and 22. The show was previously set for December 6 and December 7, 2022, but had to be rescheduled due to reported production delays. Drake is expected to perform his latest album Her Loss at the event. The project is a joint effort with 21 Savage.
In the photos he shared, Drake was seen wearing a YSL shirt under his leather jacket. He also shared a photo of his right foot with black medical tape. In the middle of his foot, there appears to be a red mark. Someone, presumably a doctor, is holding the rapper's foot.
Drizzy also shared a photo of the robe from Atria given to him. In the comments section, the rapper received well-wishes from friends and fans, including Michael Rubin, who cracked a joke.
"There is nothing better than Atria! Now if only Alan can bring us good luck in the casinos he'll really be the best!" he wrote.
"Sending healing energy. You know you always put your best foot forward," another said. "We put in a ton of rehearsal. You got this!" another said.
The rapper, earlier on Thursday, confused fans after telling them that he would be revealing his truths in 2023, and his first truth was rather curious and unexpected.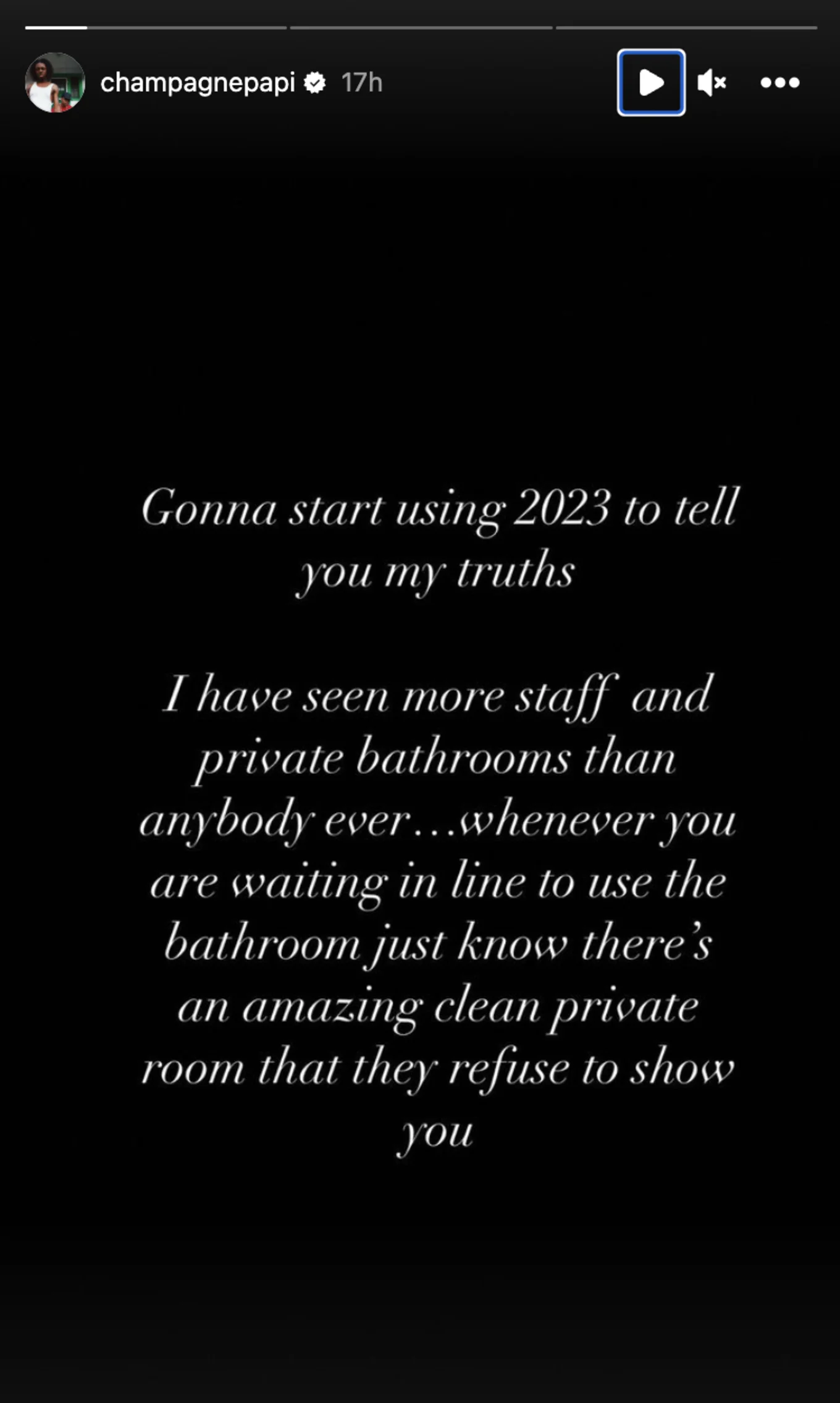 "Gonna start using 2023 to tell you my truths," Drake wrote on Insta-story. "I have seen more staff and private bathrooms than anybody ever…whenever you are waiting in line to use the bathroom just know there's an amazing clean private room that they refuse to show you."