NBA YoungBoy and his fiancée Jazlyn Mychelle tied the knot on Saturday (January 7). The rapper and his wife's marriage license was shared on Sunday, showing that they had gotten married on January 7th in Utah.
The license reflected the full names of the spouses, Jazlyn Mychelle Hayes and Kentrell Gaulden, NBA YoungBoy's real name. The couple has been together since 2020, and they now have two children, a daughter, and a son. Details of the couple's wedding were not shared online, suggesting that guests abided by rules not to share content about the wedding. The Baton Rouge rapper announced his engagement to Mychelle last May with a massive diamond ring on her finger.
The jeweler, Shyne Jewelers, shared that the rings featured 30 karats of GIA-certified diamonds with a centerpiece diamond and a small cluster of diamonds around the band.
In 2020, YoungBoy Never Broke Again and Jazlyn welcomed their first child together, the 'Top' rapper's eighth child. They also welcomed a son last year, making it his 10th child.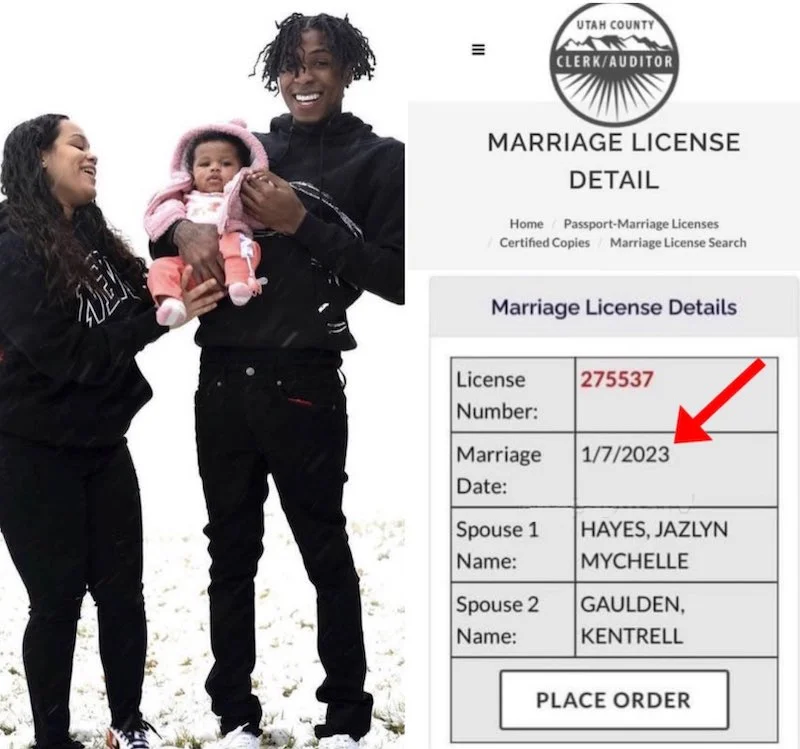 It seems that the rapper settled down with Mychelle after welcoming his daughter, whom he often references in his rap lyrics.
"I really just want to be there when my daughter born," YoungBoy said in a statement from jail as he announced Mychelle's pregnancy. "i want to be in the same house as her while she grow up i never had that experience."
The couple has also had their ups and downs as NBA YoungBoy welcomed babies with other women during his relationship with Jazlyn, but in his note from jail, he apologized to her and asked her not to leave him.
He added, "Jaz im sorry (ma'ma) i promise im sorry for every time i said something to another woman for every time they ever gotten the chance to come around ill give you anything for you not to leave anything to have you when its all said and done."
While he has maintained his relationship with Mychelle and his children with her, the rapper announced last year that he was cutting ties with his other children and five baby mothers.
In a lengthy post on Instagram in November, he wrote, "…Now look what you've done…ain't no coming back into my life until they're old enough to deal with me on their own and see what type of man I really am and 'HOW HARD I WENT FOR THEM '…People need to learn to stop doing dirty s**t for money you only hurting yourself cause ain't no controlling me with your bad intentions."
NBA YoungBoy and Jazlyn Mychelle tied the knot yesterday pic.twitter.com/lWlDMU9v8N

— Urban Islandz (@urbanislandz) January 8, 2023
@jazlynmychelle congrats ?? pic.twitter.com/CNUzIe4PnK

— Kamiyah Grandberrry (@KGrandberrry) January 7, 2023