Buju Banton's daughters are endorsing the wearing of masks after he publicly denounced the protocol.
Dancehall and international reggae star Buju Banton is known as the Gargamel. Back in the day, conforming to systematic protocol and social norms were hardly his forté, and it looks like aging and a lengthy prison stint did nothing to wane his principles. Buju recently took to social media to make a public service announcement that must have the government body shrieking with biting fists. Basically, Banton advised everyone that he will no longer be wearing a mask in public and encouraged the masses to join him in boycotting the new norm as well.
As Buju Banton's controversial statement made the rounds online, both his daughters, who are also public figures, subsequently used social media to advocate for the current protocol and disavow their father's rebellion. Jodian Myrie, who was probably among the shrieking band of politicians mentioned earlier, took to Twitter to remind everyone to abide by the protocols contrary to what her father advised. "Let us all as Jamaicans play our part in flattening this curve by continuing to wear our masks and practicing social distancing!" she wrote. "Follow the protocols set in place to protect not only your life, but the life of your loved ones."
Abihail Myrie, Jodian's younger sister, and model also tweeted, "So anyway y'all wear your masks!!!" which was a clear slap in the face of her father's campaign to boycott the protocol. Abihail's tweet seemed to have incited quite the drama Twitter as it saw mistresses being exposed and dragged for miles. A criminal defense attorney Tasha Rodney who is allegedly a concubine of Buju Banton's, responded to Abihail's tweet with an almost reprimanding tone. "Go study your books and stop allowing them to use you to tear down your father," she wrote.
Let us all as Jamaicans play our part in flattening this curve by continuing to wear our masks and practicing social distancing! Follow the protocols set in place to protect not only your life, but the lives of your loved ones.

— Jodian Myrie (@JodianMyrie) October 21, 2020
"If it is that you were studying yours enough you wouldn't be on twitter.com advertising your ignorance. It's a shame. Wear a mask, certified rebel," Abihail wrote back blowing a kiss with an emoji. Rodney's response was prompt, and it dug a deeper hole into the family drama chapter that had everyone scrolling feverishly. "You are the one showing your ignorance. Those who want to wear masks are doing so. Before you disrespect me, please send me back every dollar I ever sent you. Please and thanks. By the time I was your age, I already had a degree and was working on my second one but carryon," the attorney wrote with a pair of crying laughing emojis.
Abihail made it clear that she was not indebted to Rodney telling her supporters that "Let me make it clear that I never took a dime from this woman," she wrote. She also managed to include a couple more slights claiming, "I guess with all those degrees you still couldn't calculate not to sleep with a married man who at the time had 13 kids and counting," she said. She added that she hoped the second degree made a difference in Rodney's life choices.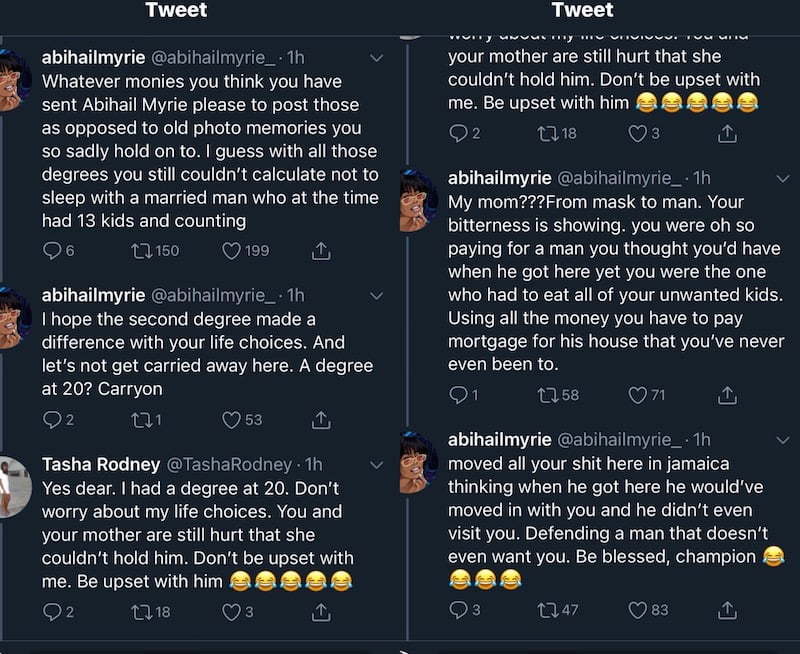 This is when Rodney told Abihail, "You and your mother are still hurt that she couldn't hold him. Don't be upset with me. Be upset with him," – something that didn't sit well with Buju Banton's daughter in the slightest. "I'm not Buju's b*tch dear. And unlike your mother, I never needed him to give me a dime," Rodney added along with the hashtag 'Buju's Champion.' "From mask to man. Your bitterness is showing," Abihail wrote in response. She accused Rodney of using all her money to pay the mortgage on a house she's never even set foot in and moving all her belongings to Jamaica in hopes that Buju Banton would live with her upon his great return, but according to Abihail, he never even visited. "Defending a man that doesn't even want you. Be blessed, champion," Myrie added.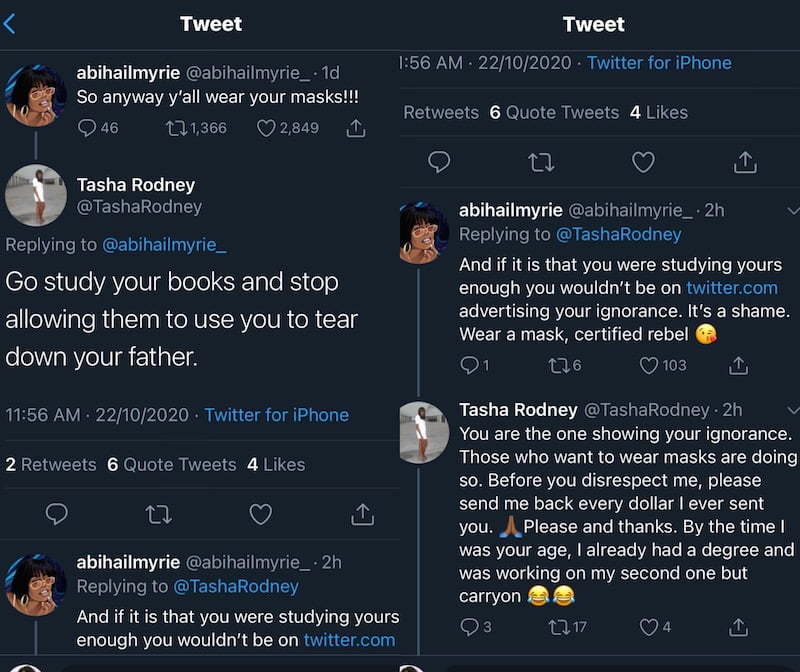 "Rude as hell. I don't even argue on here," Abihail wrote further. "But don't think you're gonna talk down to me AND mention my good good mom and i not say anything. Go roun gyal. Not one of his wh*res arguing with me." The since-deleted thread was captured by fans on Twitter who have since reshared the back and forth in a series of photos.
Who would have thought Buju Banton's call to abort the mask-wearing trend would have gone from "mask to man" between his daughter and mistress. By the by, are you for or against this new mandatory public accessory?