Snoop Dogg, Meek Mill, and Young Thug are among rappers taking aim at the media and especially Elliot Wilson for supporting Tekashi 6ix9ine.
Tekashi 6ix9ine made a huge comeback yesterday, by releasing his first single, "GOOBA," since coming out of jail. Although 6ix9ine is not totally a free man at present, the conditions of his home confinement do allow him to release new music while wearing his GPS tracking bracelet on his ankle, and that's exactly what he did. After teasing the track via a massive billboard on Times Square that declared, "The king is back," Daniel Hernandez bestowed "GOOBA" on the world via Instagram Live on Friday afternoon. The music video for the new song was shot in the backyard of his home (which he is not allowed to leave until August 2nd), and includes a rainbow of twerking models, one of whom is his girlfriend Jade.
In the new track, Tekashi 6ix9ine owns the fact that much of the hip hop world now thinks of him as a snitch for testifying against his Nine Trey Gangsta Bloods members during his trial last year and receiving a reduced sentence in return. The rapper transforms into a rat during the video, while the song includes the lyrics, "Tell me how I ratted, came home to a big bag." Someone not impressed by any of it, though, is Snoop Dogg.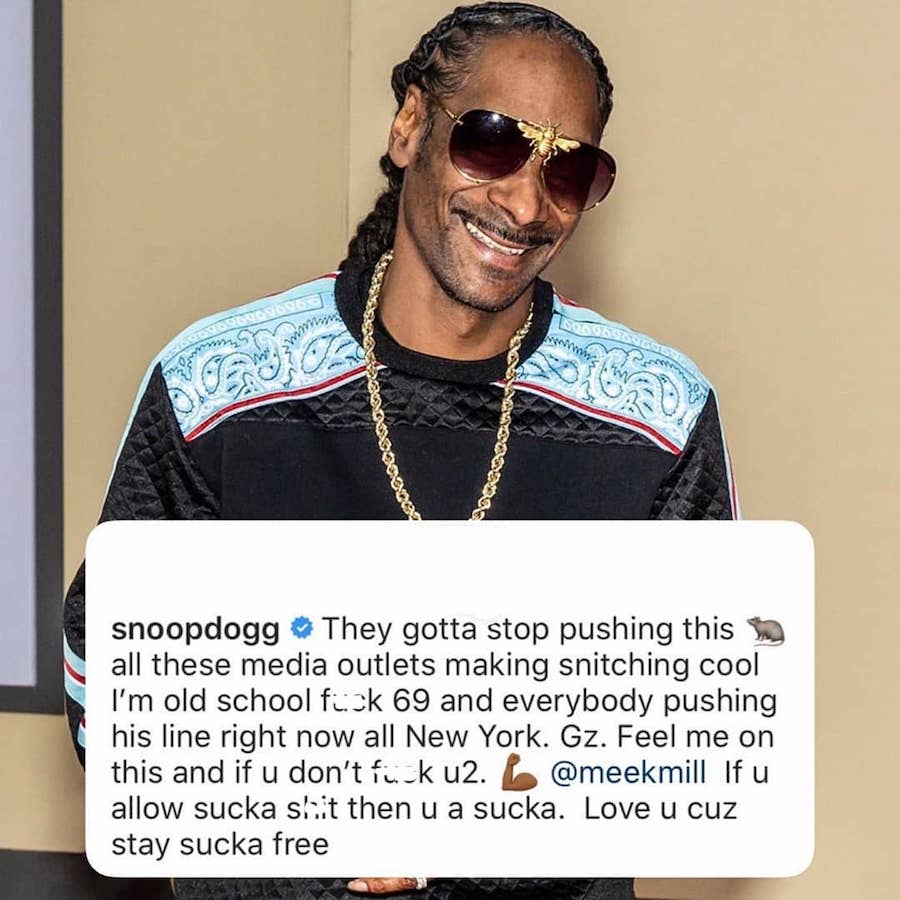 When hip hop journalist, Elliott Wilson, featured Tekashi 6ix9ine on his IG, the Godfather of Rap hopped in the comments and let his anger loose. "They gotta stop pushing this [rat]," Snoop wrote. "All these media outlets making snitching cool. I'm old school. F*** 69 and everybody pushing his line right now all New York GZ feel me on this and if you don't f*** u2. @meekmill if you allow s*cka s*** you a sucka. Love you cuz stay s*cka free."
Snoop Dogg's mention of Meek Mill is due to him seeing him as an ally in his disdain for 6ix9ine, as the new father of three tweeted, "Now you just a informant behind a keyboard tryna troll families you ruined so it's not gone hit the same… and by the way I'm doing this for my "sons" so you won't be around to impact their lives ever!!!"
Young Thug also made a post that appears to be taking shots at Tekashi69 while supporting Lil Durk's new project. Trippie Redd, who is also a longtime foe of 6ix9ine, also supported Thugger's statement.
Some might argue that 6ix9ine was better off staying locked up.