The Blueface Bleedem vs. Yung Ro saga continues.
Recently Meek Mill's new Dreamchasers signee Yung Ro purchased a beautiful home for his mother, and he shared the exciting moments on his social media for the world to see. During the video that has now gone viral, Yung Ro mentioned multiple times that he would not put his mother out, "like Blueface did his mama." This after Blueface criticized the rapper for not copping any jewelry since he got signed.
Now we don't know what or who inspired Yung Ro to shoot his shot at Blueface's estranged sister, Kali, but little sis sure showed him that blood is thicker than water. Taking to Instagram again, Yung Ro posted a video on his story of Kali rapping the diss track she put out for her brother a couple months ago.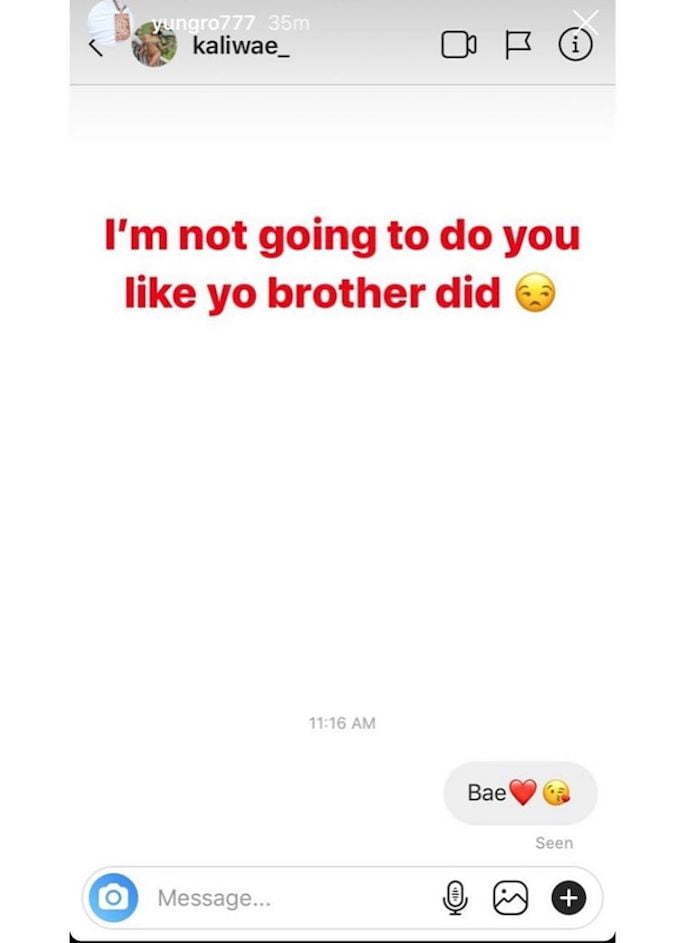 "Wats her @ tell her I want her," Yung Ro wrote alongside the clip. While the song took shots at Blueface, Yung Ro was shooting his shot at Kali. The rapper went a step further when he actually sent a direct message to Blueface's sister on Instagram, saying, "Bae," with a heart and kiss emoji. Well, Kali decided that the best way to curve Ro was rudely and publicly. Sharing to Instagram in the form of a video recording alongside the caption, "Trying to mind my business but you wanna keep going @yungro777," Kali revealed her feisty response to the rapper.
"You got a lot of heart little n***a, but I'm good boo," she wrote back. "My family's business is in your mouth but we straight. I understand buying a house before a chain but now you and your mom is roommates," Kali continued. "How you spend money on a crib before gettin your granny off dialysis? Hurry & get some furniture in that house," she added, "you can't have mama getting splinters from sleeping on that hardwood."
Unsurprisingly, Blueface chimed in with "He shot his shot #airball," the "Thotiana" rapper wrote in the comments. It's sad that we live in an age where young people are judged for making noble decisions and questioned when they opt to invest in something that has more meaning than it has karats. On that note, it's clear that this beef is far from over after Kali's public lynching of Yung Ro. Do you think the rapper will respond?