Lil Wayne was inches away from getting arrested in Saudi Arabia and now he vows to never go back to the Diriyah Music Festival.
Lil Wayne got into some hot water while in Saudi Arabia recently, and he has now put the country on blast. The "Sucker for Pain" rapper ventured to the Middle East state this past weekend to take part in the Diriyah Music Festival in the capital of Riyadh. The Kingdom has become a hot place for artists to perform recently, with 50 Cent, Chris Brown, Janet Jackson, Tyga, and Future, all showing Saudi love over the last few months. The "Rack City" rapper and "First Off" artist both returned for the Diriyah festival.
Although the show went well on Saturday, with loads of fans showing how pleased they were about Wayne gracing their presence, the mutual love stopped short when the 37-year-old took to Twitter to lay into the Saudi capital. "Never going to Riyadh again!!!" Weezy declared online.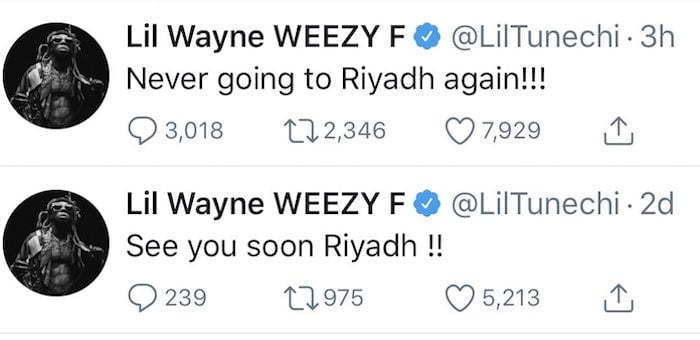 While he did not elaborate on the reasons behind his chance of heart, reports claim that it may have been drug-related.
Saudi Arabia is a super conservative Muslim country with tons of things being prohibited. Tourists are not allowed to wear shorts, take drugs, or even dab as the dance move was outlawed by the government in 2017, and a local woman was charged for performing the move this past October.
Speculations are that Wayne narrowly escaped being locked up himself for personal drug use — a huge no-no in the Gulf state — with Saudi officials even calling him out on Twitter (because apparently that's still allowed).
Im sure they have informed you, drugs are not allowed here. But you though we are in desert, who will know !!

— ???? ??????? (@NawafOsaimi) December 1, 2019
Drugs are not allowed in Saudia Arabia and I am sure that our guys informed you before, and you thought that we are kidding,so shut up and go back to your home .

— GASSAN (@gassan_z) December 1, 2019
They alleged that Weezy had been informed about the strict narcotics laws but chose to ignore them. And because he's a thug like that, the Grammy award winner posted a photo of himself smoking a joint with the caption, "IT'S THAT GKUA Ultra Premium @gkuaofficial #thatgkua #myweed."
IT'S THAT GKUA Ultra Premium @gkuaofficial #thatgkua #myweed pic.twitter.com/wIP4gOO7MU

— Lil Wayne WEEZY F (@LilTunechi) December 2, 2019
Lil Wayne has since deleted the tweet.