Rihanna ran into an old friend 35,000 feet in the sky.
This time the "Love on the Brain" singer was not necessarily the most famous person on her flight as she departed Italy after watching Juventus and Atletico Madrid football match. That's because just a few rows away sat Paul McCartney. The Beatles legend and Fenty entrepreneur are old friends, having collaborated musically in the past. "I'm about to put you on blast, Mr. McCartney. How are you on my flight?" Rihanna laughed while recording the random meeting for her Instagram Story.
The 77-year-old joked in response, saying, "Who is this filming me?" Maybe he was thinking to himself, "Oh na na, what's her name?" Rihanna good-naturedly echoed the quip with, Who is this peasant recording this legend?" and coined the brilliant hashtag #RihUnion.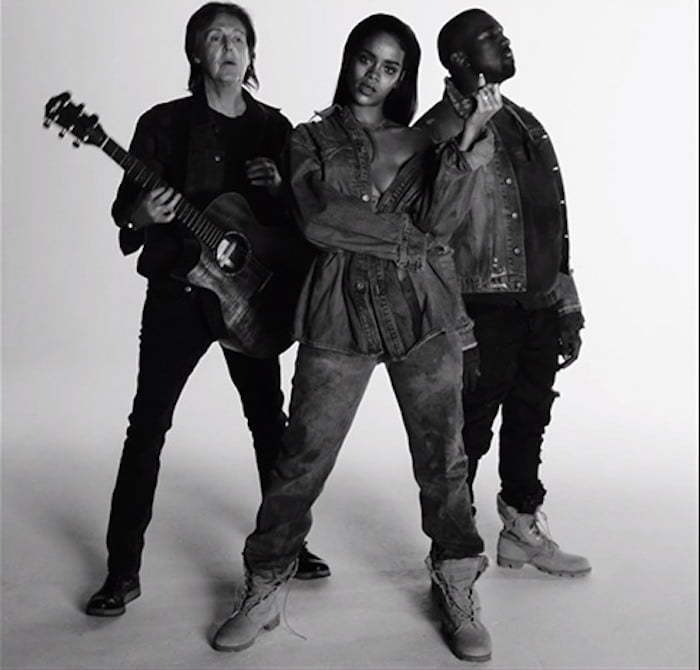 The pair, of course, recorded a hit single with Kanye West called "FourFiveSeconds" in 2015. West and Paul McCartney wrote the song, which peaked at number 4 on the Billboard Hot 100. In doing so, it earned Rihanna her 26th top-ten, and Sir Paul set a record by ending the longest break between top-ten singles on the chart.
"I'm executive producer of Rihanna's album, and I said I'd done a few songs with Paul McCartney and she couldn't get past this record. She had to have it on her album…" the "Closed on Sunday" rapper said of how the project came about.
While it's not exactly known what the "Get Back" singer was doing in the European country, Rihanna was there to cheer on the Juventus football club.
RIHANNA FILMING PAUL MCCARTNEY ON THE PLANE, THAT'S SO WHOLESOME ?? pic.twitter.com/BB0vbVxrY3

— andrey (@drivemycartney) November 30, 2019
Along with her brother, the 31-year-old attended the Champions League match against Atletico Madrid, which the Italians won 1-0.
Solidifying her support for the team (and proving that her soccer allegiance actually lies with them rather than PSG), Rihanna was given a black and white striped jersey with her nickname Riri on the back. Her brother was also given his own jersey that read "Fenty."
Thank you, @rihanna for joining us last night! ??#JuveUCL #JuveAtleti pic.twitter.com/Zzkd3sHFBP

— JuventusFC (@juventusfcen) November 27, 2019
We wonder who Rihanna will run into on her next flight!