50 Cent's smoking hot girlfriend Cuban Link caught him lacking in the Jacuzzi in Bahamas.
If you're looking for 50 Cent, you won't find him in da club. The "Animal Ambition" rapper is hanging out in the Bahamas with his boo, Cuban Link. Rumors that Fiddy was seeing the corporate lawyer and YouTube star began in August, with the pair showing up in each other's social media pages ever since. The pair is now on vacation in the Caribbean and seems they can't get enough of each other. Cuban Link took this selfie with 50 gazing off and post it on her IG story. Maybe the G-Unit chief was watching over his back, but that's what you have bodyguards for.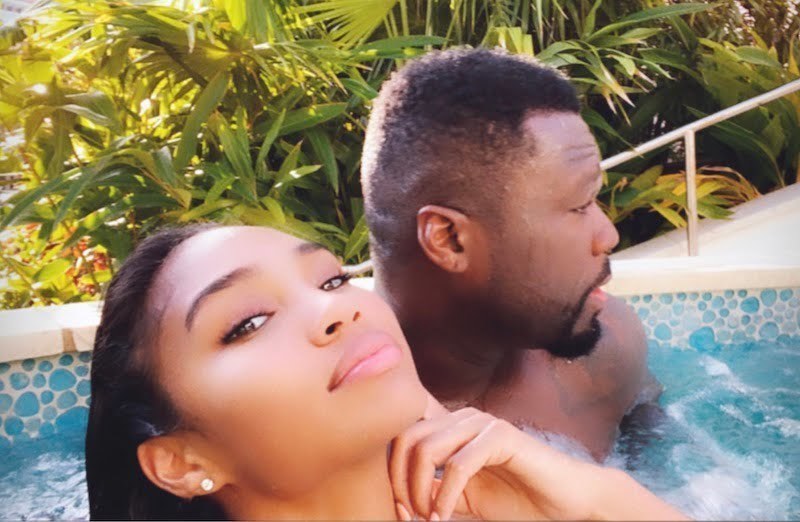 "Is it me or you getting finer each post," the 24-year-old commented on a picture 50 Cent posted of himself and actor Joseph Sikora.
It's not known exactly when the fitness instructor and the Power producer first became a couple, or where they met, but it appears to be going well, with pair now going on vacation together. Cuban Link, whose real name is Jamira Haines, took to the 'gram to share snaps of the bae-vacation, which has included jet-skiing, horse-riding, and lots of beach time.
Things also looked to be getting steamy, with the 44-year-old and his lady cozying up in the jacuzzi. When not relaxing by her side in The Bahamas, 50 Cent enjoys poking fun at the social media queen, even teasing that he had to change his phone number because of her.
"This is why my phone # changed," he joked while posting a selfie of his gorgeous girlfriend. "Got Damn, that's not ya phone @_cuban_link Look if she call you b*tch, I don't know you. Matter fact who da f**k are you."
Forget "50 Cent" — that caption is priceless.