French Montana gets a nice visit from the newly singled Megan Thee Stallion, who hit him up in the ICU.
French Montana was not one of the stars gracing the red carpet at the 2019 American Music Awards last night. That's because the "Writing on the Wall" rapper was stuck in a hospital room, hooked up to an IV. The San Fernando Valley Hospital has been the 35-year-old's home for the last few days after he was admitted for cardiac issues. French first entered the Californian medical facility in the early hours of Thursday morning after law enforcement authorities were called to his house.
Megan Thee Stallion, who proclaimed her single status in a fire freestyle at the American Music Awards last night, posted a video of her and Montana. "Get your motherf***** azz out this motherf***** bed and go home, damn they can't keep a real ni**a down," Thee Stallion said all while the Coke Boy rapper was smiling from ear to ear.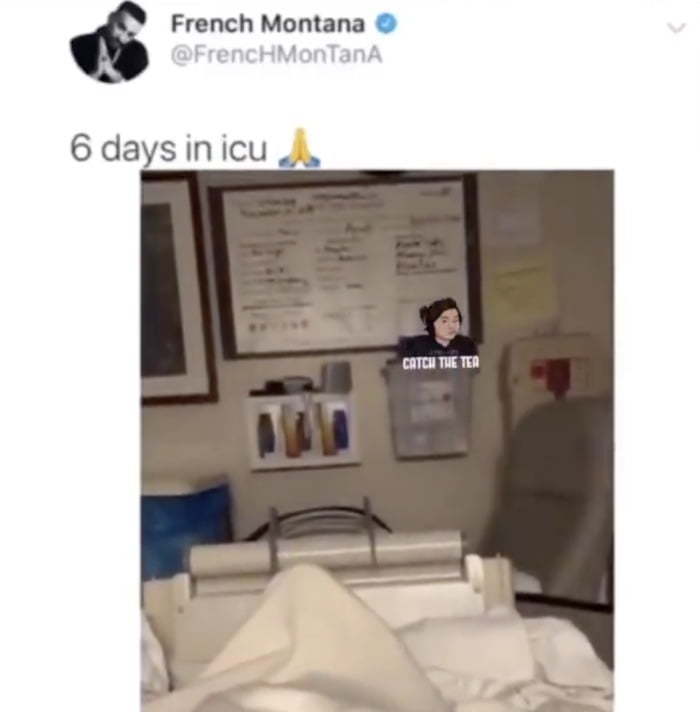 Although initially present at the Calabasas premises due to reports of a robbery, which turned out to be a false alarm, officers noticed that French was looking a little under the weather and decided to call an ambulance. What was expected to be a single day observation, has now turned into 4 days of hospital vacation. According to those in the know, doctors are still running several tests to determine just what is causing the hip hop artist to experience severe stomach cramps, intense nausea, and an elevated heart rate.
Whether extensive traveling throughout Europe and the Middle East or exposure to contaminated food was the cause of the symptoms has not yet been established. For what it's worth, French seems to be a bit bored, but who wouldn't be with only 5 television channels? Earlier today, he posted a video taken from his hospital bed, which gave fans a view of his room — tiny box TV included — and a glimpse at a whiteboard on which the words "manage pain" were visible.
The timing of French's hospital visit is not ideal as he is expected to release his third studio album, Montana, this month. Also not ideal? The lack of flowers in his room! Let's hope he's at least getting lots of jello.